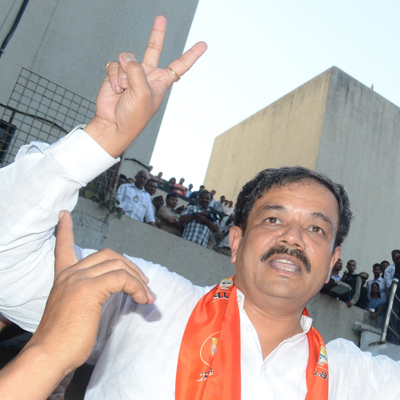 Milind Patankar may be the cause of political turmoil in Thane city yet again. Patankar, who was earlier in news during TMT elections, resigned from the post of chief of BJP's city unit head on Friday, March 14. Sources hint that he may join the Nationalist Congress Party (NCP).
Sandip Suresh Lele, president, BJP Thane city, confirms the news of his resignation. It was on December 23 last year when Patankar was allegedly attacked by an angry mob of Shiv Sena and BJP, following which the cases of kidnapping and police complaints happened.
Speaking with DNA, Patankar informed, "I had to resign as I was not allowed to take any decisions as a party unit head for the past six months. I was not allowed to sign any cheques and was not intimated about meetings or events. I felt powerless and thought if I cannot take decisions and operate my office, its better to resign from the party unit head. On whether he planned to move to any other party, Patankar says, "As of now, I have not decided anything."
About the reasons why Patankar has been a paper tiger for the past six months, sources informed, "Most of the time Patankar would take decisions at his own without consulting with the party workers. Not just this, he even sidelined many senior party workers. Several times when BJP planned bandh and other activities for the city to support a cause, he would be seen attending press conferences with the Opposition the next day, which is not permitted. We cannot take autocratic decisions while running a party. In his kidnapping story, too, he blamed BJP party workers in his police complaint and now those party workers are in a legal hassle. Instead of concentrating on their work, they have to take care of their cases. Since the party cannot function like this, the decision was taken. He also adds that he has been an important member and BJP as a party supported him well since the beginning, prompting him to become the corporator thrice and Deputy Mayor as well. But, most of the time he didn't support the party."