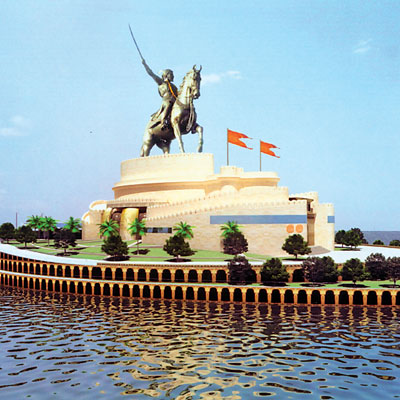 The proposed mid-sea memorial of Chhatrapati Shivaji has run into trouble with experts questioning the calibre and expertise of the state government-appointed "technical committee" to choose the architectural firm to undertake the Rs1,500-crore project. The memorial is to come up 1.5km off the Marine Drive coast.
The recently constituted committee comprises architects from BMC and MMRDA, besides the principal of Sir JJ College of Architecture. The committee is mandated to scrutinise proposals and finalise the architectural firm as well. Interestingly, the state's chief architect was deliberately dropped from the committee.
Renowned city-based architect Hafeez Contractor, who has developed several iconic structures, is not happy the way contractors and architects are selected in India. "I am sure there will be complete mess in this project as well. The state-appointed committee has no power to select the right person. It has to abide by given terms and conditions. It will assign the work to the lowest quoting architect and the chosen firm will do substandard work. It will not meet world-class criteria. What can we do? The country is getting what it deserves," said Contractor.
Chief minister Prithviraj Chavan should have guts to select the right architect who has expertise in this field. "But going by his track record, I have least hope from this CM. BMC and MMRDA architects have not planned a single iconic building after Independence. And, they are going to choose an international firm," said Contractor.
Another city-based architect said, "If the state government really wants to develop an international level memorial of Shivaji, then the state authority should be serious. BMC and MMRDA architects are neither equipped nor have calibre to choose a firm and design a world-class memorial," he said, requesting anonymity.
When dna contacted state chief architect Bipin Sankhe, he refused to talk. However, sources in his office told that Sankhe was sidelined because he was a thorough professional who never succumbed to any pressure. "He does not allow any interference that can harm a project. Even if the government ignored Sankhe, it should have appointed world-class architects. What can we expect from BMC and MMRDA architects? It seems they have been deliberately appointed so that politicians can interfere in the Rs1,500-crore project," the sources said.
Another trouble for the memorial is that Team One architectural firm, whose design was chosen by ex-chief minister Ashok Chavan through global tendering, has filed a petition against the state government's decision to ignore its design. "The government had failed to honour its approval. Our design was chosen through legitimate competition. We worked very hard for this dream project, but we now we have been sidelined. However, we are hopeful that the court will give us justice," said Bharat Yamsanwar, director, Team One Architect.