MMRDA sits on proposal to change reservation of Bharat Nagar slum plot from commercial to residential.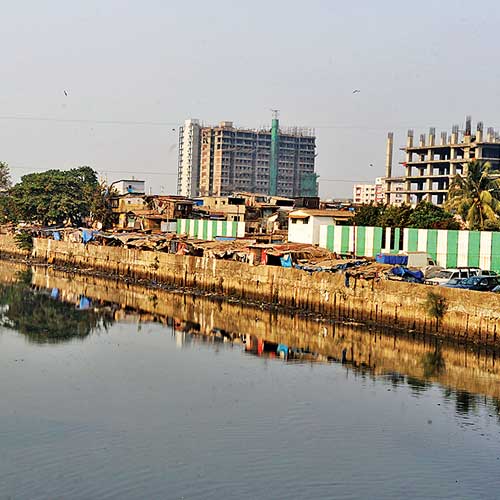 A proposal by the state housing agency to develop a posh residential enclave on the Bharat Nagar slum plot in the Bandra-Kurla Complex (BKC) has been stalled, due to the refusal of the planning authority to clear the project.
The Maharashtra Housing and Area Development Authority (Mhada), which owns the land on which the slum has come up over the years, wants to construct residential towers that could attract high-end clientele who operate in the BKC area.
But the plan can go ahead only if the land-use of the property is changed from commercial to residential by the Mumbai Metropolitan Region Development Authority (MMRDA), which is the planning authority for BKC.
Satish Gavai, chief executive officer, Mhada, said, "It is unfortunate that the project is not moving ahead despite Mhada taking up the reservation change issue at various levels, including MMRDA.
We have to take up such projects to subsidise the low-cost, affordable housing that we build. We have planned a residential complex as the demand for commercial space isn't good now and we cannot afford to be saddled with unsold property."
The rate for residential properties in BKC today is upwards of Rs35,000 a sq ft. The Bharat Nagar plot measures about 10-12 acres. There would be a few thousand families residing there today.
Mhada has sent four letters on the matter to MMRDA in the past year, but has got no reply. It seems that MMRDA is insistent that the character of the area as a business hub of high-end firms must not change. MMRDA officials would not comment.
A Mhada official explained the aim of the project saying, "BKC is a premium business district and attracts a lot of top-notch businessmen as well as foreigners. Constructing a high-end residential tower will be a sound business proposition."
The official also pointed to some residential towers MMRDA has put up in BKC and asked why it should object to the Mhada plan.
Mhada says the luxury tower project is feasible with the existing 2.5 floor space index (FSI). It has proposed a 17-storey tower that would have two bedroom-hall-kitchen as well as 3BHK and 4BHK options.
According to an official of the state housing agency, with the number of land parcels reducing and the demand for affordable housing shooting up with every Mhada lottery, the agency requires to develop some premium projects urgently in order to pay for the low-cost housing projects.
The BKC was one of the first planned commercial complexes in the suburbs to decongest south Mumbai. Today, it houses numerous business offices, among them such big names as the National Stock Exchange, the Securities and Exchange Board of India, the diamond bourse, Asian Heart Institute, Dow Chemicals, public and private banks and even educational institutions like the Dhirubhai Ambani International School.