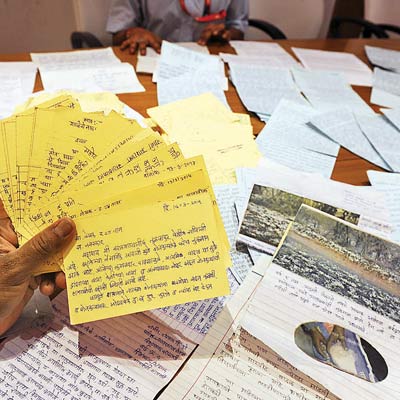 "I helped my parents tend our wheat field for hours after school. To see months of hard labour come to complete ruin because of the hailstorm is hard," says Pallavi Suresh Patil, a 13-year-old from Malharpeth-Sawarde village, of Kolhapur district. "The kharif crop was ruined because of erratic rains. All hopes pinned on the rabi crop have been wiped out with it," the eighth standard student in Siddhkala High School of Panhala tehsil writes in an emotionally-charged letter and adds, "I'm going to talk to my parents to not lose hope. We still have each other and we'll come out of this bad phase."
Another letter from over 320 km away in Osmanabad district of Marathwada, talks of not only crop loss but also the devastation of the house. "I am telling my desperate parents to show patience but also beg the government to hurry with the aid," says sixth grader Arjun Pawar, 11, of the Maharshi Vithhal Ramji Shinde High School. "Every day I can hear my parents weeping late into the night."
They are not the only ones. At a time, when as many as 101 farmers from Maharashtra's hailstorm affected areas are committing suicide within this month, from this gloom and doom comes a story of hope and optimism penned by school children. More than 3,000 such letters have poured in to Zee 24 Taas editor Uday Nirgudkar's office over the past few weeks. "We have been getting at least 80-100 letters daily," says Nirgudkar whose office table is packed with stacks of inland letters, postcards and also some written on pages torn from exercise books. "Many of them have moved me to tears."
It all began three months ago, when the channel introduced a special black ticker to carry news developments from interior mofussil areas. "The information that came in from these hailstorm-hit areas, made us send seven teams to cover the crisis."
One of the viewers moved by this poignant reportage was actor Atul Kulkarni, who reached out to make an appeal to the people. "One has heard of agrarian distress but this is unprecedented, both in scale and magnitude," he said. Kulkarni says, his appeal was not about belligerence against official apathy. "I wanted them to touch base with their own inner strength to dispel negative thoughts." He used the travails of Guna Kagal - a character he played in the critically acclaimed Natarang (2010) - who faces hurdles from his family, friends, society to perform in the tamasha. The song Khel Mandala from the movie which enthuses people to carry on in face of difficulty was made part of the message which asked children to extract a promise from their parents that they will not lose hope and think of ending it all. "You know Aamir Khan once said he always plays this song in his car as he finds it inspiring. Now, when I see the response to message I'm convinced," says the two-times national award winner.
A letter from Sandhya Waghmare, 12, a Class VII student resonates, "Once we've begun something we have to take it to a logical end with or without help. I only hope God gives us the strength to work hard and survive this crisis."