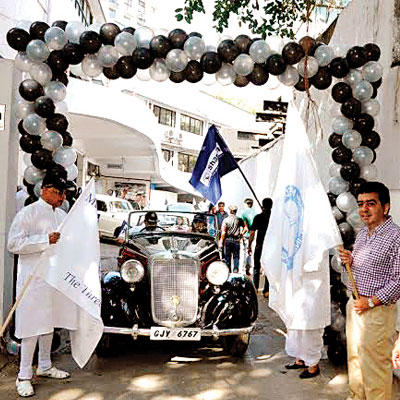 The morning of February 16 saw a strange but pleasant concoction of emotions at the Shaman Mercedes Churchgate service station as around 30 timeless four-wheeled beauties from Mercedes-Benz started their journey in a motorcade towards Shaman Mercedes showroom on CST Road, Kalina. The motorcade was flagged off by Hormazad Sorabjee, chief editor of Autocar Magazine, and Jatin Sheth, chairman of Group Shaman.
The rally, organised by The Mercedes-Benz Club of India and Shaman, was to celebrate the lineage of these cars and give a glimpse of the history of perfection and craftsmanship that has backed brand Mercedes-Benz for many generations now. The Mercedes Benz Club of India is the only club in India to be recognised by Mercedes Benz, Germany, and is also known as the 3 Pointers Club. Shaman, one of the most reputed and leading Mercedes-Benz dealerships in India having its showrooms at BKC and Shiva and state-of-the-art service centers in Churchgate and Karina, has joined hands with the club to promote the spirit of Mercedes.
Cars like the 1938-170 V and older models of S classes generated lots of curiosity and excitement among Mumbai as the beauties made their way through the traffic. The cars stopped for a while at World Sea Face but had to leave earlier than planned as it became difficult to manage the swelling crowd of enthusiasts.
The cars finally arrived at The Shaman Mercedes showroom in Karina where they were kept on display for the guests. Also on display were the original Mercedes-Benz boutique items, which were purchased by the guests in large numbers. There were many Mercedes-Benz owners who enrolled themselves into the club, members of which can boast of some rare and vintage collection of cars from Mercedes-Benz.
"It is a privilege to associate with The Mercedes-Benz Club of India as we feel it holds lots of potential and adds value to the Mercedes-Benz customer," said Group Shaman director Mar Seth.