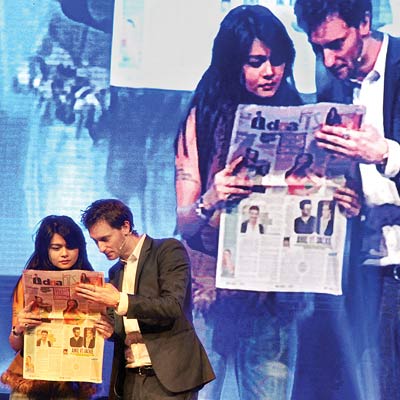 Mentalist Lior Suchard, managed to surprise city audiences yet again with his superb Extra Sensory Powers (ESP) last weekend.
At a show, the Israeli mind-reader threw a frisbee into the audience as part of his interactive session which was nimbly caught by a young lady. Suchard summoned the girl, Sakshi on the stage and then proceeded to display nearly a 1,000 newspapers of which he asked her to pick one. The smart nymph picked dna After Hrs as her newspaper of choice and then flipped through its pages, making a mental note of the single word from the paper that Suchard had asked her to retain.
Meanwhile without Sakshi revealing the word to either him or the audience, Suchard separately wrote a word on a placard, covered it and laid it aside. After Sakshi had told the attentive audience that her chosen word was 'Together' Suchard uncovered the placard....and hey presto!...it had 'Together' written on it as well! Not only that but in the following moments Suchard unbuttoned his shirt to reveal a T-shirt which read "She Will Choose The Word..." on it's front and "Together" on its back. What's amazing is that obviously Suchard had worn the T-shirt well before the interactive segment started and had not only guessed the newspaper word that would be revealed well in advance but also that a member of the fairer sex would ultimately catch his randomly thrown frisbee and come up on the stage (as judged from the 'she' on the T-shirt)...the mind boggles!