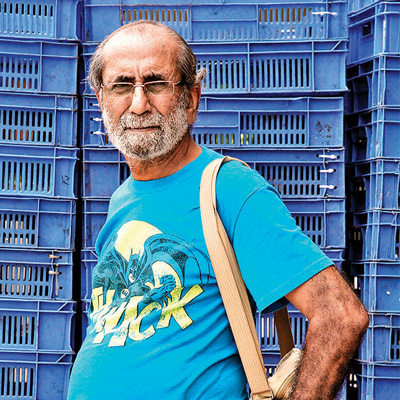 While most of us don't think twice when we notice a dripping tap or a leaking pipe, an 80-year-old is literally trying to save every drop of water. As a water crisis looms large with 650 million litres lost every day in the metropolis because of leaking pipes, Aabid Surti, a Mira Road resident, is back to plugging leaks. A campaign he started in 2007, Surti, a writer and painter, was inspired by a news report on leaking faucets. "That article had a deep impact on me. I decided to do something about it," he told dna on Thursday.
"I hired a plumber and approached people living in different housing societies to let me inspect their taps. I offered to fix the taps for free. Initially, people were skeptical because they have never encountered a stranger promising to fix their taps and that too free of cost. Later as word spread, I was welcomed to most homes. Now I have a volunteer who accompanies me and my plumber. Every Sunday morning, we visit various buildings in Mira Road. In the first year, February 2007 to February 2008, I covered over 1,600 households. Over the years I have saved 6 million litres of the precious liquid," said Abdi.
He has started a 'one-man organisation' called the Drop Dead Foundation (www.ddfmumbai.com) which talks about his mission and his tips to save water. "I want each citizen to realise his or her civic responsibility to save water. It is the duty of every citizen to save water," he explained. Several organisations, including WIPRO, have honoured him with awards in cash and trophies. The cash is put into the foundation's kitty to fund its activities.
Surti was born on May 51935 in Gujarat. His family later migrated to Mumbai. As a child he used to watch his mother get up early in the morning to fill water from a roadside tap. That too affected him.