52-year-old Ali Asgar Kanchwala was killed on Monday night after a speeding car hit his scooter.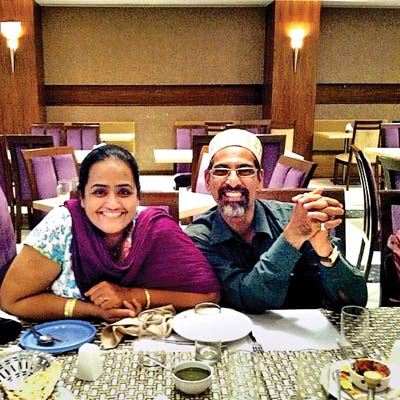 The 52-year-old man, who was killed after his two-wheeler by hit by a speeding car on Marine Drive, was young at heart and full of life, according to his relatives.
For several years, it was almost like a ritual for deceased Ali Asgar Kanchwala and his wife Farida, 48, to go out for a ride once or twice a week after dinner. They would take a round of Marine Drive and adjoining areas before returning home.
Married in 1986, the couple was living in Mazgaon with their son after the building in which they used to live went for redevelopment. The couple has a daughter, who is married.
Speaking to dna, Kanchwala's nephew Murtaza Kudrati said, "My uncle was full of life and enjoyed going out with my aunt. But the ride on Monday changed her life forever. My uncle was not wearing a helmet as he was wearing a cap, which we all have been doing after our spiritual leader passed away. I admit it was his fault but not big enough to claim his life."
The mishap occurred on Monday night near police gymkhana. Police said the driver of a speeding Maruti Swift lost control of the car and rammed into the divider before hitting Kanchwala's scooter.
Such was the attitude of the driver, identified as 19-year-old Mohamed Zifar Chuddiwala, that he did not bother to check the couple, the victim's family members said. Instead, he tried to flee from the spot. However, he was nabbed by a patrolling team.
Kudrati, 36, said two women, who were on a two-wheeler, had noted the number of Chuddiwala's speeding car minutes before the mishap as they suspected it could go out of control and get involved in an incident.
"My aunt is in a state of shock. I have not spoken to her about the incident yet. The person who is responsible for the loss of a precious life was out on bail the next morning. What lesson will he learn? I am not saying the person should be jailed for years but such people should be put behind bars for a few days to make them realise that human life is not something that can be taken away so lightly. The driving licence of such people should be cancelled so that they cannot risk lives of others," Kudrati added.