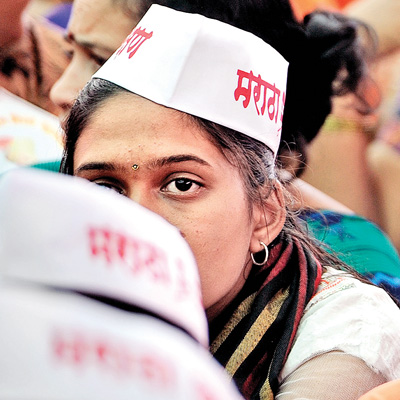 Anticipating legal wrangles over its decision on reservations for Marathas and Muslims, the Congress-NCP government has decided to justify its action with historical evidence. The state has cleared the quota by creating a new category called 'economically and socially backward category.
Sources said to bolster its claim, the Rane Committee, which had been entrusted with the job of looking into the reservation issue, has dug up a host of documents. "We will submit the data if the decision is challenged. We are sure it will help us justify our position," said a senior state official.
Even Chief Minister Prithviraj Chavan has clarified the decision was taken within the legal framework and the state is ready to defend it.
According to officials, the government is building its case on events such as rejection of warrior king Chhatrapati Shivaji's coronation by brahmins on the grounds that he was a Shudra. "This is first and foremost evidence that proves that Marathas were socially backward," said a senior NCP leader.
He cited the alleged humiliation of Shahu Maharaj, who was told by the Brahmins that it was not necessary for them to bathe and chant correct mantras for a person belonging to a lower caste, as the second example.
The third incident he state was about Bhosale, Shivaji's descendent from Thanjavur (Tamil Nadu), being declared as Shudra by the Madras high Court.
Shrimant Kokate, Maratha historian said, "All these historical evidence shows that Marathas are not the higher caste in caste hierarchy." He said many Marathas are landless farmers and work as labourers thus they need to be supported.
However, the main bone of contention is that by giving 16 % reservation for Marathas and 5% to Muslim takes the total reservation to 73% in the state. This is more than the quota cap set by the apex court.