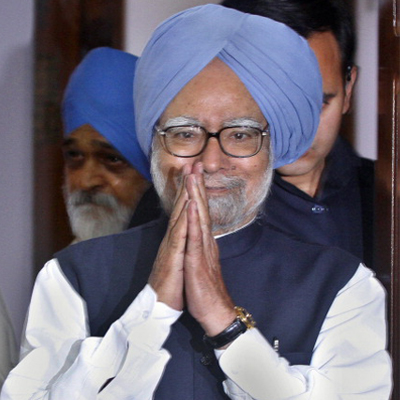 What is the abiding image that we have of Manmohan Singh, prime minister for ten years? The innumerable boring speeches, the utter lack of wit, the reluctance to intervene when the nation needed a voice of sanity, a ram rod stiff gait as he walked off and on the stage as he played out his role partly out of compulsion it seemed, and towards the last six months out of a sense of inevitability as if summoning some gods to just take him away since he had had enough?
We first saw him as a man of destiny when he stepped out of a white ambasador car along with Sonia Gandhi on the forground of Rashtrapahti Bhavan on a May afternoon in 2004. That is when Sonia Gandhi sprung him on an unsuspecting nation, giving away a role that was definitely hers. We were shocked but no one cribbed for finally here was the man, academic, technocrat, intelleuctal all rolled into one, a man who knew his beans. We knew he had a sane head on his shoulders, humility in his veins and history of Punjab as a context. He bore in him the pain of Partitition too. Perfect.
Ten years later, are we sure he did everything? Every departure is tragic and so is Manmohan Singh's. He goes after two tenures as prime minister, and looking back he too would be wondering how he pulled it off. He too had survival instincts and often looked the other way. But then he was buttressed between mother Sonia Gandhi who thrust destiny's great role on him twice and her son Rahul Gandhi who tried to teach him a few lessons in how to stem corruption. Once Rahul rose, Manmohan just set.
UPA1 was a dream run and the partnership with Sonia Gandhi was a lesson in give and take. The people loved the motherly Sonia driving a timid Manmohan and gave the Congress 60 seats more in 2009. But UPA II was like India's second innings, say in Perth. Things started collapsing around Manmohan Singh. He could have stood up and shouted. He could have acted. He did nothing of the sort. It was enough for him if destiny's antennas picked up his stray thoughts and gave him some good marks.
The full story of Sonia-Manmohan dynamics will never be known. So much we know that party and state have to be separate and only then will things work in India. Sonia had a social agenda, Manmohan seemed to have an economic idea but very little of the vision thing. If at all he had a vision for India he did not express it in as many words though his speeches contain words of wisdom. Sonia turned towards the Left but Manmohan stood steadfast in the Centre and Right. Sonia once expressed exasperation to a women's delegation which met him saying. "What can I do. I keep writing letters. No one listens to me."
This is quite contrary to the image we have of a stentorian Sonia summoning the PM for the occasional dressing down.
The entire nuclear energy package, an econimoic performance much better than the NDA's on many parametres, is Manmohan's abiding contribution. The empowerment revolution is Sonia's singular contribution as through many letters and the national advisory council, (packed with leftists) she drove a pro-poor agenda. In the end that is what is left: 100 days of salary to the poorest of the poor (for 60 years no one gave a damn to India's poor ), the right to education, the right to Information, national food security bill which will give food almost free to 700 million people and all the rest of it. Never before has so much of money and power been given to India's unwanted, unwashed 500 million.
Today, all that talk of the poor looks so unfashionable. In a country where the BJP is on everyone's lips, where inequality will continue to grow dangerously under a possible fully capitalist, pro-business regime.
Says Harish Khare, journalist and former media adviser to the PM, "Manmohan had his task cut our for him as prime minister and with characteristic diligence and sincerity his regime went on to make historic course- corrections in three vital areas of national life: social harmony, equity, regional peace. During his term, he never lost sight of the constant need to heal the wounds and pursue reconciliation at home. He brought with him an understated but keen sensitivity. Soon the political system's credentials as provider of a level-playing field were restored. Social harmoney too was restored as a major public objective."
Considering that he led a minority government with not enough numbers, Manmohan Singh's and Sonia Gandhi acheivements are commendable. Nations often behave like petulant children who haven't got enough toys. UPA II didnt give enough toys to the middle class.
How will history judge him? Going by present trends, as scathingly as the headlines have. But when time gives history a clearer perspective we as a nation may still praise Manmohan Singh for at least as Khare said for making tolerance, openness and moderation a daily addiction.
Manmohan left us to our ways. He even let some of his ministers to their devious ways. At the end he was bereft of conviction and did not even have the couage to carry out whatever convictions. The buck never stopped with him. In fact the buck passed him by. Sometimes we think, that his wisdom, his reading, his insights were all wasted as he kept irritatingly silent as if he would attain moksha.
One thing is sure. Though he failed on many levels, as prime minister Manmohan Singh gave the job a dignity and grandeur which we may miss in the days to come.
—(Iftikhar Gilani and Sushil Kutty contributed to the story)