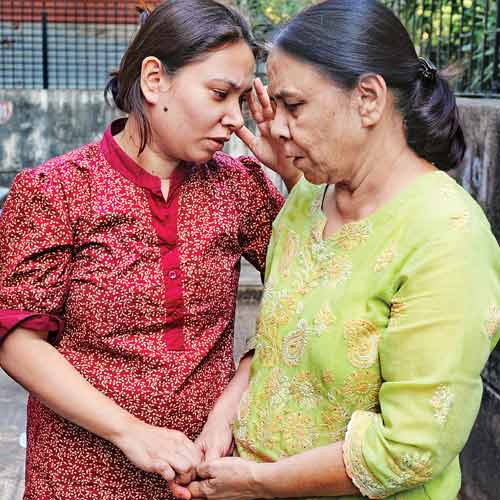 Aditi, wife of Captain Sunil James — who was languishing in a prison in Togo in western Africa for five months — is experiencing mixed emotions. On Thursday, Sunil was granted permanent release along with third engineer Andi Vijayan. Both were detained on charges of abetting a pirate attack. A third member, Chennai's Peechuli Chandran Ashok, who was detained along with them, will continue to be held in Togo.
Ever since her 11-month-old son Vivaan passed away on December 2, Aditi was fighting a relentless battle to ensure that her husband gets to see their son one last time. She met prime minister Manmohan Singh earlier this month. The family decided against conducting the last rites of Vivaan till Sunil was back and kept his body in a morgue.
"We thank the government for taking necessary action to ensure Sunil's return," Aditi told dna.
"Vivaan was around three months old when Sunil set sail. Sunil was looking forward to spending time with Vivaan in September, but his arrest and imprisonment delayed everything."
Sources told dna that it was prime minister Manmohan Singh's efforts which resulted in James's release. They said the "real push to the process" came after Sunil's family met Singh on December 10. The prime minister assured them that the government would do everything to secure his release.
"The matter was overseen at the top level in the PMO… which is why things moved so fast. India's high commissioner to Ghana K Jeeva Sagar, who is also accredited to Togo, was asked to fly to Togo and secure an appointment with its president. The family was kept in the loop when Sagar met Togo's president Faure Essozimna Gnassingbé on December 18," sources said. India does not have a permanent embassy in Togo and Sagar had been staying there for the last three days.
Sunil is expected to land in Mumbai on Friday evening and head straight to his Malad residence.
His family believes this could have happened a lot earlier. "Five crucial months of his life are lost though he is innocent. It took one meeting with the president of Togo to free him; this should have happened months ago," said Sunil's brother-in-law, Rakesh Madappa, who travelled to Togo in September after not getting a clear picture on why the sailors were detained.
Aditi's mother, Nirmala Rao, said the family is relieved that Sunil will be back but the sorrow remains. "We haven't had a chance to mourn the baby's death," she said.
Madappa said Aditi locked up Vivaan's toys and clothes in a cupboard because she would feel weak whenever she saw them. The family is yet to take a decision on Vivaan's funeral. His body was moved to a private morgue on Wednesday.
Around 35-40 pirates attacked vessel MT Ocean Centurion with AK-47s and laptops in the early hours of July 16. The pirates looted the crew of their personal belongings and disembarked the vessel on July 17. "No material on the ship was looted as the attack had been foiled when the navy was alerted," said Captain Nilesh Gandhi of Accord Marine, the shipping company that employed Captain James. The ship was brought to Lome, capital of Togo, where its naval authorities began an inquiry.
Gandhi says the authorities have not released Ashok as the court in Togo wants to investigate the matter further. "It is suspected that his elder brother led the gang of pirates which attacked the ship," he said.
Satish Sakleshpur, second secretary at the Indian High Commission in Accra, Ghana, could not confirm the reason for Ashok's detention. "We do not have any official communication from Togo on why only two of them were allowed to go. We will have a clear picture only after the high commissioner returns to Accra on Friday," he said.
Ministry of external affairs (MEA) spokesperson Syed Akbaruddin said Captain Sunil James and Vijayan were released from detention in Togo on Thursday after a meeting between India's high commissioner in Accra and president Gnassingbé of Togo. The MEA refused to comment on the terms of their release and remained silent about the release of the third sailor.