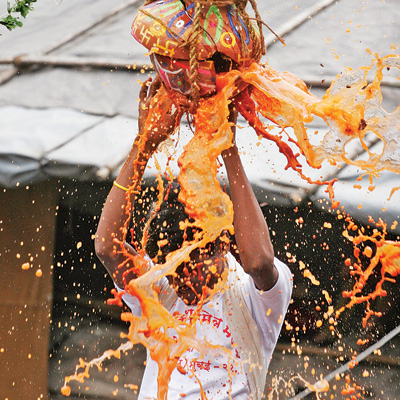 Prominent mandals and those participating in the Dahi Handi celebrations on Thursday have welcomed the Supreme Court ruling on the festival. The apex court on Thursday stayed a Bombay High Court order, banning under-18 Govindas and putting a cap on the height of human pyramids.
For mandals, this is a big victory as the Maharashtra State Commission for Protection of Child Rights had banned children under 12 from participating in Dahi Handis.
"We were a little upset with the HC order and it is good that the Supreme Court has heard us," said Bala Padelkar, president of the Dahi Handi Utsav Samanvay Samiti (DUSS), the umbrella organisation of the Dahi Handi mandals.
Padelkar said while their issues are not resolved completely, they will accept the SC decision and comply with it. "Those below 12 will not play in this Govinda and we are trying to send out to mandals the message that they should not have anyone below 12 years of age."
The organisation plans to meet the state government to chalk out a strategy on the issue later. Participants too welcomed the ruling. Swapnil Sheramkar, secretary Tadwadi Sridutta Krida Mandal and Tadwadi Ashtavinayak Govinda Pathak said that they would perform the pyramids without having any one below 12 years old.
"We welcome the order and we will form same number of tiers as we used to. We will try and find a replacement for the under-12 children that works out well," said Sheramkar.
Organisers, on the other hand, who had already pulled out or were in two minds, have decided to go ahead with the celebrations. Krishna Hegde, who organises one such events in Vile Parle, said they will not allow anyone under 12 to be a part of human pyramids and will have a tier restriction of six. Sachin Ahir, whose Shri Sankalp Pratishthan used to have the festival at the Jambori Maidan, Worli will be having it with usual fanfare.