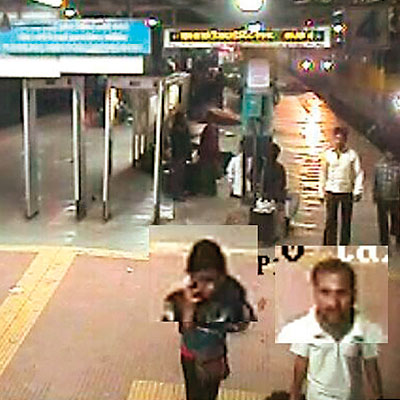 The probe into the rape and murder of 23-year-old Esther Anuhya now hinges on an unidentified man seen in footage retrieved from cameras installed at Kurla terminus.
The railway police said they are trying to establish the identity of the middle-aged man who is seen alongside computer engineer at the railway station after she alighted from the Vishakapatnam Express early on January 5.
The railway police, who have been suspecting the involvement of some taxi or autorickshaw driver, have shown the footage to drivers who usually ply their vehicles outside the terminus, hoping to get some clues to the man's identity.
"But no one has been able to identify the unidentified man walking ahead of Esther," said an officer from Kurla railway police station.
This officer said that Esther's relatives, who had been shown the footage, have confirmed that it is she [Anuhya] who is seen walking behind that unidentified man.
This, however, is disputed by Esther's uncle Anil Kumar. "We haven't yet confirmed that the girl seen walking behind this suspected man is Esther," said the uncle of the deceased, adding that they've asked for more footage from other cameras at the terminus.
Innocent victim
The body of Esther Anuhya, 23, was found in Bhandup on January 16, eleven days after she had gone missing. Esther, who had returned from a vacation to her hometown in Andhra Pradesh on January 5, had alighted at Kurla terminus after which she could not be contacted by her family members.