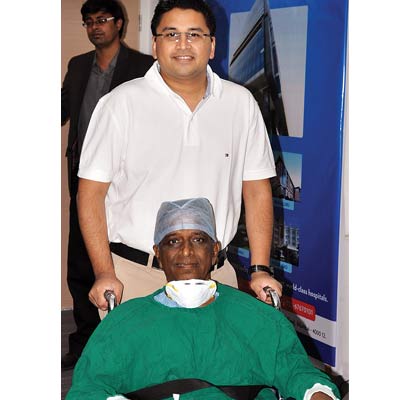 Sixtyseven-year-old Nikunj Kapadia got a new lease of life after his son Munjal (36) donated a large chunk of his liver to him.
The live liver transplant surgery conducted earlier this month went on for over 10 hours. A live liver transplant involves replacement of affected liver with a donor liver. Both the donor and the recipient are alive. "The donor and recipient should have the same blood group and should ideally be immediate kin. In case of Kapadia, his son was willing to donate the liver to him," said Dr Samir Shah, head, department of hepatology, Global Hospital in Parel.
Kapadia was suffering from liver cirrhosis for the past three years. However, the origin of cirrhosis is not known. The doctors were stupefied as Nikunj was neither an alcoholic nor was he suffering from a viral infection. "My father was almost at the final stage of the disease. He was suffering from water retention in the body for the past few months. Liver functions had deteriorated significantly and we were advised that transplantation was required. I had to save my father's life and hence decided to donate a part of my liver to him," Munjal told dna. "Two weeks after the transplant, I am feeling good. I am very proud of my son," said a beaming Kapadia.
Of the 1.25 crore population in Mumbai, doctors estimate that at least 1,000 patients require transplants every year. Currently, not even 100 liver transplants occur in Mumbai.
Dr Mohammed Rela, leading liver transplant surgeon in India, said in young donors liver regenerates faster as compared to an older patient. Even after 70% of liver is surgically removed from donor, the whole of liver grows back to it's original size weighing close to a kilo in three months.
"Mortality is close to 10 per cent, where all patients that undergo liver transplant die within a month to a year, but it is a chance worth taking for living," said Dr Rela.
Apart from Global Hospital in Parel, Kokilaben Dhirubhai Ambani Hospital in Andheri offers live liver transplant programme. Also, LH Hiranandani Hospital in Powai has outsourced it's transplants to a private healthcare service. "Any hospital that conducts up to 50 transplants in a year is said to have a programme. All programmes in Mumbai are currently at a fledgling state but the liver transplant movement in Mumbai will steadily pick up," said Dr Shah.
Majority of patients suffering from end-stage liver disease in India die. While 1 lakh patients across India require transplant surgeries every year but barely a thousand persons end up getting a transplant. Fatty liver disease, alcoholism or viral Hepatitis are cause irreversibly damaged liver where the only resort patient is left with is to get a transplant or succumb. "It is extremely difficult to get cadaver liver as awareness about organ donation on Mumbai is very low. Live liver transplants are as successful as cadaver. The liver programme requires a major boost in the city," said Dr K Ravindranath, chairman, Global Hospitals.
In India, 1, 00,000 persons suffer from end-stage liver disease. Only 25,000 are able to afford transplants financially. Only 1,000 liver transplants are possible in India as organs are in short supply.
In Mumbai, of 1.25 crore population, at least 1000 persons require liver transplants. Not more than 100 transplants occur every year.