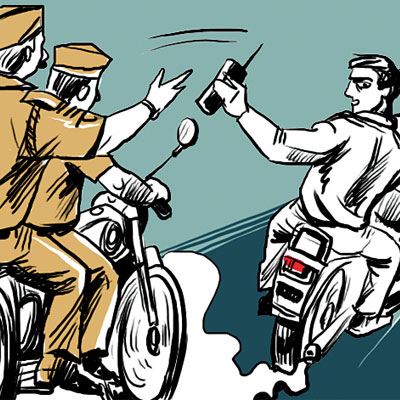 A beat marshal from Malad was left gaping after two men on a bike grabbed his walkie-talkie and raced away. Sanjay Rane from Bangur Nagar police station had stopped the duo to question them during a routine vigil when he lost the device worth Rs80,000.
Uttam Khermode, ACP of Malad Division said Rane was patrolling on Link Road along with another constable in a vehicle when he spotted two men on a bike near Inorbit Mall around 10 pm and signalled them to pull in."
Khermode said the two men, believed to be between 18 and 20, were heading straight but had suddenly taken a diversion after seeing the patrolling vehicle. Rane, 52, got out of the vehicle to question the duo, who had hesitatingly stopped.
"They did not let out any details about themselves. Rane had the walkie-talkie activated. One of the bikers snatched the radio device and the two sped towards D P Road. The cops gave them a chase, but could not find them," said Khermode.
The Bangur Nagar police have registered a case. The police believe that the duo stole the equipment as they did not want Rane to send any alerts.
Amidst the chaos, the cops were unable to note down the registration number of the bike. Khermode added, "Since the CCTV footage from the mall is not very clear, we will be preparing sketches. We suspect they are habitual criminals. We have formed a team to nab them."