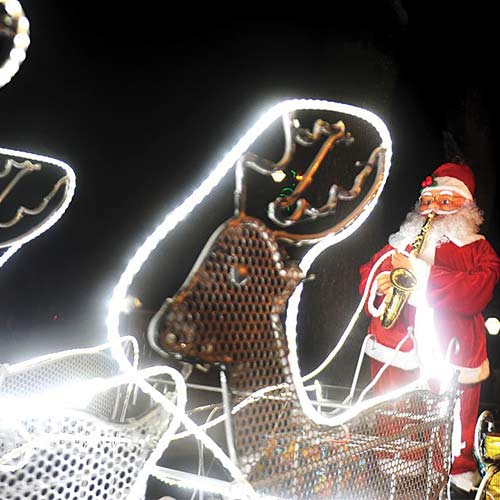 If there was one thing that Celia D'Lima missed out on this year, it was dancing to the beautiful music being played at a Christmas party she attended last week. "My legs are weak. Had they been fine, even I would have shaken a leg with my friends," she quipped.
The 86-year-old Bandra resident was talking about the senior citizens' party she attended organised by the St Peter's Senior Citizens' Association in Bandra. To make sure senior citizens do not spend a lonely Christmas, parishes of various churches are ensuring they make the festival special for them in different ways.
"Many senior citizens live alone because their children have moved out. To make their Christmas special, on a day that's convenient, we organise a party for them. A special mass is also held," said Fr Errol Fernandes, parish priest of the St Peter's Church.
These parties have everything the elderly will enjoy — music from the decades gone by, games and traditional delicacies. "This year, we had a chicken dish, lollipops, pulao, two vegetarian gravies, three puddings and cold drinks, among other items," said Allen Fernandes, 87, a resident of Almeida Park in Bandra.
Lucy D'Souza, a member of the Immaculate Conception Church in Borivli, said at their parties, the elderly are encouraged to play a bigger part in the festivities, by performing carols, songs and dances.
Youngsters, too, do their bit to make these events a success. Maxy Fernandes, a Bandra resident, provides his vehicle so senior citizens can be ferried for the special mass and the feast.
Traditional dancing
Everard Nagar, Sion: 8pm onwards Traditional ballroom dances
Catholic, Bandra, Willingdon & Khar gymkhanas: 8pm onwards Live bands playing traditional ballroom music, social dance forms and choirs singing carols through the night