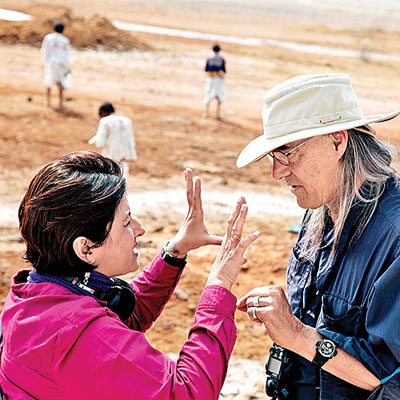 Let's talk about sex!
And represent it in our films, says filmmaker Leena Yadav, who is ready with her next film, Parched, that talks about an unbridled and dark truth, misogyny and repressed sexuality, that plagues women globally.
Leena Yadav has been short-changed by the audiences with her very first Bollywood film, Shabd (2005), a love story starring Aishwarya Rai-Bachchan and Sanjay Dutt and then with Teen Patti (2010), a gambling heist with none other than Amitabh Bachchan and Ben Kingsley playing off each other's talent in the film.
Both films had the right symphony of stars to a script, but didn't quite make the coveted 'hit' status. But a small adjective like 'failure' hasn't been able to shackle her creative pursuits. Yadav is ready for round three on the box office marquee with Parched, a film that tells the stories of women entrapped in misogyny and sexual repression, trying to escape their lot, in a small village in India.
"You can either sit back and analyse the million reasons of what went wrong with your films or go out there and make another one. I chose the latter and here I am, with Parched," says Yadav.
She'd heard stories of rural women in Kutch talking misogyny and sexuality in a manner most natural, unlike the prudishness one encounters in urban social settings. "I was intrigued and went to Kutch to meet these women. I heard their conversations and felt that their stories had a universal resonance. They could very well be the experiences of women living in New York, London or any other place in the world, barring the speech, accent, color and cultural diversity!
"I began to question, and subsequently, address these issues in the film. Why are we complacent with the roles that we internally abhor, but do nothing about when given the chance? Why don't we question unhealthy social prejudices masquerading as culture? Is gratifying men the only role women play in society and will this continue unabated? I was shocked to learn that women in these parts did not know what an orgasm was, let alone experience one. They aren't aware of infertility in men and go through an entire lifetime blaming themselves for not being able to bear children. I personally attribute repressed sexual energy as one of the largest causes of these heinous crimes towards women. Parched is an attempt to address the misogyny and sexual repression against women. Men in power in India make atrociously sexist and regressive statements towards women and their rights only because there is no sexual conversation in our country that addresses the subject clinically and progressively. Let's talk about sex and represent it in our films and get the conversation going!" she stresses, emphatically.
Yadav wrote the first draft and sent it to her friends all across the world. She was emboldened by the surge of déjà vu responses and went about getting Parched off her desk and on to a set. What drove Yadav to produce Parched in such a harsh economic climate, was to have absolute creative control on the final film, from script to screen, and not be reined in by the commercial forces of the film business. "I dared to dream this only because of my husband Aseem Bajaj, the greatest collaborator one can have. When actor Ajay Devgn heard Aseem and I were trying to produce Parched, he offered to produce it immediately, as did Rohan Jagdale, Gulab Singh and Brillstein Entertainment in LA. Investment for a film like Parched that has no big stars, a predominantly female cast, and is directed by a woman is not easy to come by."
As she prepares to leave for Los Angeles, for the final cut of Parched, she does observe a marked difference in the dynamics of filmmaking in India versus Hollywood. "In Hollywood, you approach an agent and within 24 hours, you get a lead on the talent you want to work with. Top line crew and talent are easier to access when you have solid material on paper and appropriate funds to back the film. The system facilitates your talent. Parched is, in Hollywood terms, a Passion Project. The first entrant on the foreign crew was the award winning DOP, Russell Carpenter, ASC (American Society of Cinematographers) who has shot Titanic, Jobs and Charlie's Angels. We couldn't afford his fee for Parched, but Russell was generous enough to afford us, on the belief that stories like this needed to be told," she says.
Carpenter, too, has been reciprocal in his admiration for her. "I have just worked with the most amazing director, a great spiritual force, loving and composed every single day and totally 'buttoned up' and 'sorted', never losing sight of the essence of her lovely movie, Parched and it's central message of women's empowerment in the face of centuries of imprisoning traditions in India. She is truly a gem," is what he says of their collaborative effort on the film.
Parched is a definite departure from her earlier films, exploring sexual freedom through the voices of village women in rural India. She has worked with big ticket stars and stalwarts and now, international crew and talent like Russell Carpenter. Does she feel she belongs in the same league as them, creatively? "The fact that a script written by me gets stalwarts to collaborate with me is not a small feat in my book.
Otherwise, are you trying to tell me that no one in India ever tried to get Ben Kingsley or Russell Carpenter on their projects? I also think that box office numbers are not the only measure of a film's impact or success."
To put it succinctly in the words of Ajay Devgn, "Parched is about small battles that women must fight to win the big war. Films like this need to be made, seen and discussed." Parched will premiere worldwide on the international film festival circuit early 2015.