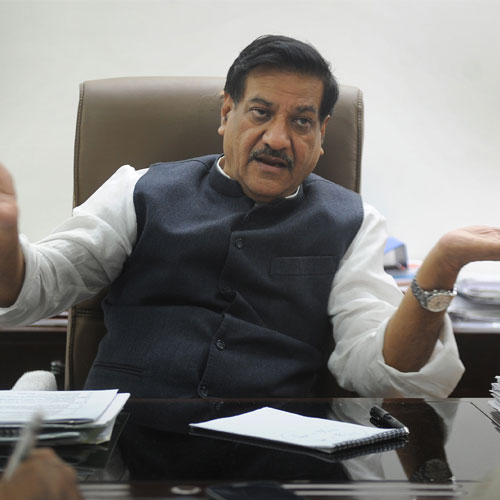 Chief Minister Prithviraj Chavan on Sunday said that the prime plot of land in Andheri allotted to Union Minister of State for Parliamentary Affairs Rajiv Shukla will be taken back by the government as it was originally reserved for a municipal school.
Speaking to mediapersons informally on the sidelines of a college event in Nagpur, Chavan said that even if Shukla's trust wanted to develop the land, it won't be able to do so as the reservation of the land will not be changed.
Besides, Chavan stated that the state will come out with a new policy with regard to allotment of land for schools or other such purposes. The policy will ensure that government land is not given out at concessional rates in the future, as was done in this case. He indicated that the rates could be a certain percentage of last year's ready reckoner rates, but the exact percentage is yet to be worked out.
Earlier, Shukla had announced that he would return the land allotted to his Bag Film Education Society (BFES) to the Maharashtra government. Shukla had also claimed that he had incurred financial loss to the tune of Rs5-6 crore.
The state-owned land was allowed to be handed in 2008 to BAG Films Education Society (BFES), a trust controlled by Shukla's wife Anuradha Prasad. The 2,821sqm plot near Country Club, reserved for a primary school, was sold to BFES for only Rs98,735. Another parcel of land, a 3,534.70sqm plot beside the first one, reserved for a sports field, was allotted to BFES on a 15-year lease for just Rs6,309.
The plots were allotted during former chief minister Vilasrao Deshmukh's tenure. Incidentally, the then municipal commissioner Jairaj Phatak had given the no-objection certificate for the allotment of the plot to Shukla.
Despite 61 hutments being on the Jogeshwari plot, the collector's office allotted it to BFES, terming it encroachment-free. That eviction process is what allegedly got all the officials in trouble as many dwellers had documents proving their hutments existed before 1995.
CM takes a dig at Sharad Pawar
Chavan on Sunday took a dig at Nationalist Congress Party (NCP) supremo Sharad Pawar while addressing students at a Nagpur College, saying that although recently a politician had criticised "jholawalas", there is a need and space for such organisations. He was referring to an incident where Pawar had said a strong leader like the late PM Indira Gandhi did not need advice from "jholawalas" to take pro-poor decisions, referring to the Sonia Gandhi-led National Advisory Council.