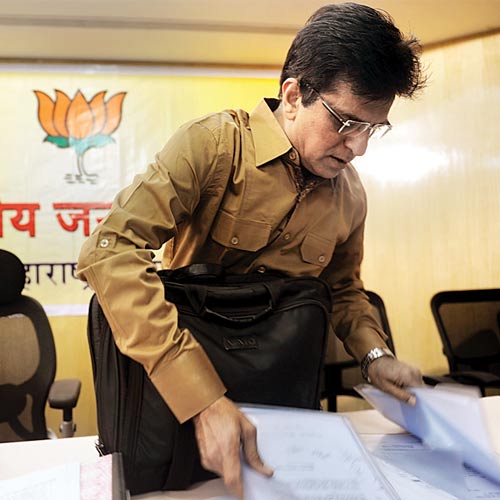 Accusing the state government of suppressing facts with regard to the controversial allotment of prime plots to an organisation linked to MP Rajiv Shukla, senior BJP leader and former Lok Sabha member Kirit Somaiya on Monday demanded that the allotment be cancelled.
Somaiya dubbed the matter as 'second Adarsh scam' following the government's claim that most of the documents pertaining to the allotment were destroyed in last year's Mantralaya fire.
"The file (regarding the allotment) has disappeared due to the pressure of Rahul Gandhi's close aide Rajiv Shukla. Chief Minister Prithviraj Chavan is cheating the people of Maharashtra," said Somaiya.
The state government had in 2008 allotted two prime Andheri plots, reserved for a municipal school and playground, to Shukla's BAG Films Education Society. Somaiya alleged that the plots had been given at Rs 98,735, which is 0.01% of their market value of Rs 100 crore.
"Prithviraj Chavan must learn a lesson from the assembly poll results. He must cancel the allotment and initiate action against concerned officials and ministers," Somaiya demanded. "I will request Rajiv Shukla to accept his mistake, return the plots and resign," he said.
Somaiya charged that the plots were given to Shukla for a seven-star club house and pointed out that no other applications were sought while giving out the land. "His intention was never to run a primary school," he alleged.
BJP spokesperson Madhav Bhandari said as per rules, the construction on the land and
the use of the facility should happen in two years after the allotment. "In this case this had not been done."