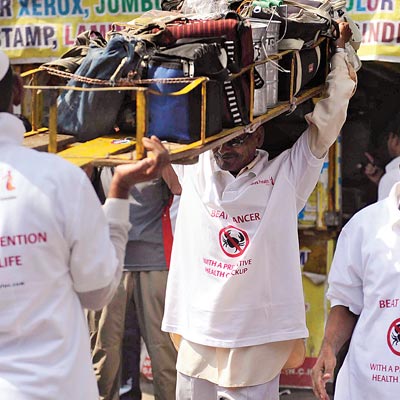 If everything goes as per plan, Maharashtra will soon have a record of details of cancer patients in the state.
Directorate of Medical Education and Research (DMER), a department under State Medical Education Ministry, will soon issue a directive to medical colleges in the state about the registry.
Experts say around 5 lakh people die of cancer in India every year.
As per WHO Report 2005, the estimated cancer deaths in India every year will increase to 7 lakh by 2015.
The state-run registry will record details of cancer patients as there is no exclusive data of cancer patients with the state government.
"There is no single registry in the state giving compressive information about cancer patients in the state. There are must be a national registry for the disease. As the number of patients is increasing in the state, we decided to have a registry," said Dr Pravin Shingare, in-charge director, DMER.
Tata Memorial Hospital in Parel will be roped in to set up the registry.
"The registry will give us information about cancer patients and the treatment we need to focus on," he added.
The state medical education department started a dedicated department for cancer treatment. It has set up departments in Government Medical Colleges in Aurangabad and Nagpur and Cama and Albless Hospital in Mumbai.
Soon, it will set up another department in Government Medical College, Akola.
Dr Rajan Badve, director of Tata Memorial Hospital, welcomed the move to set up a registry, saying it would play a major role in treatment. "The data will show where we are lagging and would help make policy in the state."
Helpline to counsel patients
First of its kind, a tele-video-online counseling service, 'Hope Soars,' has been launched by privately-run Kohinoor Hospital, Kurla, to aid cancer patients and their families.
Open from Monday to Saturday from 10am till 5pm, the line will be operated by trained counsellers who can be reached through a telephone helpline number, internet video-conference via Skype, web-chat on G-talk and on social media forums Facebook and Google Hangout.
The counselling service will help patients to cope with a cancer diagnosis and manage stress.
For Tele-Counseling, dial: 022 61166116.
For Web group chat via Google Hangout, connect to: Cancerhopesoars
For Video call on Skype, connect to skype name: Cancerhopesoars
Margaret Chan WHO director general
The overall impact from cancer would hit developing countries the hardest. These nations are already grappling with poverty-associated cancers caused by infection or disease. Added to that will be cancers blamed on more affluent lifestyles —high tobacco and alcohol use, and not exercising enough