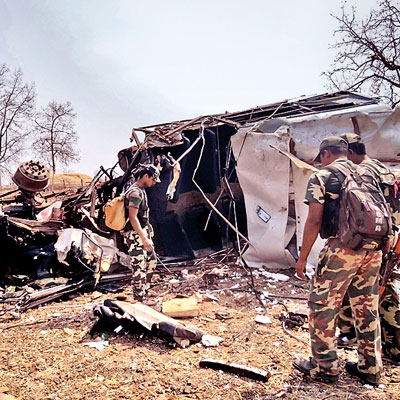 The state government has decided to introduce accelerated promotion scheme for meritorious work in naxal-infested areas in order to boost the morale of security forces.
Accelerated promotions were a part of the several recommendations made by police officials to fight the naxal menace in the state. However, the state had not framed a policy for at least two years after the recommendations were made. The cabinet approved the proposal on Wednesday.
A committee has been set up headed by IG (naxal operations) Nagpur range for considering promotions of police constables to assistant sub-inspectors posts. While sub-inspector to assistant police inspector posts will be considered by a committee headed by DGP Maharashtra.
Those interested in working in naxal areas of Gadchiroli, Gondia, Chandrapur and Bhandara districts will be chosen as per seniority. Those posted in the naxal areas, who want to secure promotion have to serve in naxal affected areas for two years.
According to home department officials, the scheme will be implemented immediately. "This will help in increasing the number of personnel involved in anti-naxal operations," an official from the department said.
The state cabinet also approved its opinion on the recommendations made by the central-states relations. A commission headed by retired justice MM Punchi, which was looking into centre-states relations, had come up with a set of 280 recommendations and sought the opinion of the states. The state government had formed a three cabinet sub-committees, to look into the recommendations and they have already submitted the report. The three committees were headed by industry minister Narayan Rane, forest minister Patangrao Kadam and rural development minister Jayant Patil.
The state will now send its opinion-based on the reports submitted by the cabinet sub-committee.