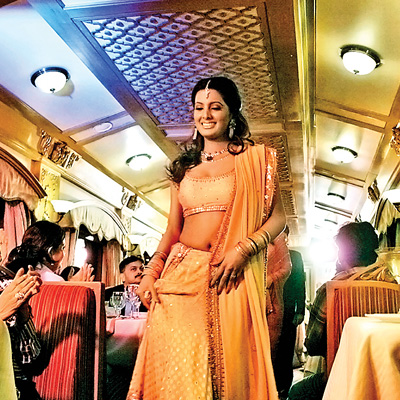 A trip on the ultra-luxurious Deccan Odyssey may become a reality for many Indians, with the state government planning to introduce shorter routes at affordable rates.
At present, the train's itinerary includes a seven-night trip, commencing from Mumbai. At Rs3-4 lakh a passenger, the operator – the Maharashtra Tourism Development Corporation (MTDC) – depends heavily on foreign tourists as most Indians find the rates exorbitant. To tap the local market, the government is now working on new routes with lesser fares.
Similarly, the tourism department has also tied up with railway department for attracting tourists to different tourism circuits in the state by offering package tours to several destinations. Many of these circuits will start from national capital Delhi, the officials said.
"We want to take the luxurious Deccan Odyssey to more and more travellers. Many more routes will be added to the circuit," said Jagdish Patil, managing director, MTDC. Source said that the routes will be increased to about 10 and will even cover states like Karnataka, Madhya Pradesh and Gujarat.
In its effort to attract Indian travellers, MTDC has been offering 50 per cent discount on the tickets for the past few months.
The 21-coach train can accommodate 80 passengers. Touted as among the best luxury trains in the world, the Deccan Odyssey is designed as such to reflect Indian royalty in every sense of term right from plush interiors, delicious cuisine and warm hospitality. Presently, the train covers places/states like Mumbai, Sindhudurg, Goa, Vasco, Kolhapur, Ellora, Ajanta and Nashik.
The Deccan Odyssey Luxury Train project is a joint venture of the ministry of railway and the state. Facilities on board include channel music, intercom, money exchange/credit cards facility, safety & security arrangements, health spa, bar, conference equipment, etc.
"Since the train is operated by the Indian railways, in order to get things done faster, we have got on deputation a senior railway official who is preparing several tourism projects involving trains," added Patil.
MTDC officials even held a meeting with Arunendra Kumar, chairman, Railway Board during his recent visit to the city.