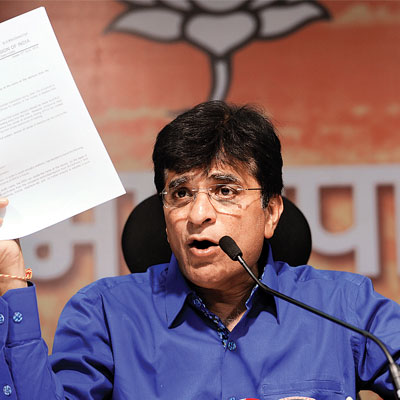 BJP candidate from Mumbai North-East constituency Kirit Somaiya on Friday alleged that that the Election Commission has been misused to exclude names from the voters' list in Mumbai, MMRDA, Pune and Nagpur regions.
Addressing media persons on Friday, Somaiya said the conspiracy has been exposed on Thursday, but this has been happening since January 2013 and the BJP has been telling the Election Commission.
"The Maharashtra government has connived with the election department to exclude names. Besides, the complaints of the missing names have also been reported in Nagpur and Pune," said Somaiya.
According to Somaiya, a revised voters' list was published in January 2013 and January 2014. Large number of names was found missing and this was brought to the notice of the suburban and city collector, but they did not take any corrective measures. The officials had then assured that corrective action will be taken in the revised list in 2014, but no measures were taken, Somaiya said.
This is for the first time in the history of the country that as many as 50,000 names were excluded from one assembly constituency of Ghatkopar.
Somaiya said while 50,000 names were excluded from Ghatkopar, in Shivajinagar-Mankhurd regions only 4,000 names were excluded. There should be some logic. More importantly, within one month as many as 50,000 voters were registered in Shivajinagar-Mankhurd segment, of these as many as 47,000 did not have photos and proofs. This was brought to the notice of EC officials, but no action was taken," said Somaiya.
"Does the office of the electoral department work as a party office of the Congress-NCP? We had also complained to the EC in Delhi and they had sent three observers, who had said that the deletions were illegal and unconstitutional," Somaiya added.
Somaiya further pointed out that as many as 10 lakh people were missing from the voters' list after it was published in January 2013 and it was done by EC officials sitting at home.
"A criminal complaint has filed against the Election Commission and the Collector and other officials with the Mulund police station. Meanwhile, a delegation of senior leaders of the BJP and the Shiv Sena will go to Delhi and bring this issue to the notice of the EC," Somaiya said.
Kirit Somaiya filed a police complaint for "criminal negligence and conspiracy".