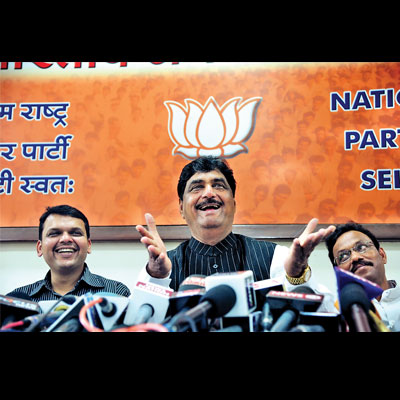 BJP leader Gopinath Munde on Wednesday alleged that the state government had cleared 182 files relating to builders in the Mumbai and Pune region recently to raise funds for the polls.
"This means that money has been sent to Delhi for the elections. The state government should declare as to what reservations related to land were lifted or removed," Munde told a news conference.
The BJP leader also alleged that the Pune Municipal Corporation had conspired to remove reservations on land. He demanded that the state should be transparent about its decisions.
Asked about a possibility of the NCP supporting the NDA, Munde said, "There is no possibility of the NCP coming with the NDA. We will not feel their need. This time our alliance will win more than 35 seats in Maharashtra."
On whether he was aspiring for a berth at the Centre, he said, "Ministry should not be sought. It is the right of the prime minister to choose his ministers. Our PM will take a decision on my role."
He felt that a Muslim would be picked in the ministry and said that he would recommend the name of Shahnawaz Hussain.
On the elections, Munde also alleged that voter's lists in 11 districts were distorted and this was done with the collusion of officials. "I have sought an inquiry against the officials," he said.
On the toll issue, the BJP leader said the state would be free from the toll charge when the BJP comes to power. "The state government is issuing tenders to renew toll collection contracts. If they do this we will cancel the toll contracts when we come to power," he said.
Munde said the toll rates had been increased and this would bring a windfall for the contractors.
The BJP leader said he had asked party activists to start preparations for the state assembly polls in October. A meeting of the joint coordination committee of the alliance partners in the state would be held after the Lok Sabha election results are declared, he said.
Referring to recent incidents of attacks on Dalits, Munde said there had been nine incidents in the past fortnight and the issue would be raised in the forthcoming session of the state legislature. He demanded that the investigation into the incidents as well as the murder of anti-superstition campaigner Narendra Dabholkar should be handed over to the CBI.