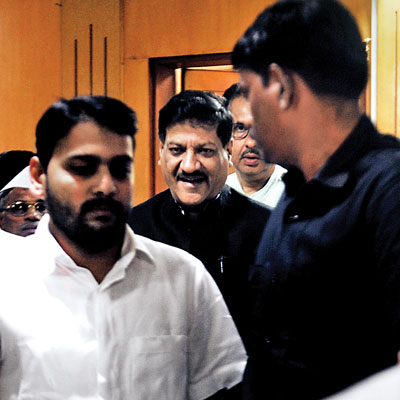 After its worst-ever defeat in the recently-concluded Lok Sabha elections, the state unit of Congress has into an introspection mode.
Maharashtra Pradesh Congress Committee (MPCC) leaders admitted their "mistakes" and resolved to look into what went wrong. State party president Manikrao Thakre said this was not the time for a blame game or taking action against each other, rather it was a time to identify our weaknesses and work for a solution together.
Party leadership, during a state Congress committee meeting on Monday at Tilak Bhavan state headquarters, rejected the resignations of Nitin Raut, minister for employment guarantee scheme, and Narayan Rane, minister for industries and ports. Chief minister Prithviraj Chavan was present at the meeting.
"MPCC resolves to face the future political challenges unitedly with full strength without diverting from our basic policies and principles. State party leadership also expressed its confidence in the All-India Congress Committee (AICC) leadership," read a statement issued.
Thakre said it was decided in the meeting to hold intensive brainstorming sessions with each parliamentary candidate and leaders of that constituency. "We will interact with leaders of all 26 constituencies on May 21, 22 and 23. The aim will be to identify the weaknesses and problem areas which proved obstacles in our road to success. On May 25 and 26, I will sit with Prithviraj Chavan, MLAs and ex-MPs from the state and discuss the issues," he added.
Admitting that the party has failed to publicise the work done by the government in all these years, Thakre said somewhere a few things did not go well with the public and they are upset with us, which is evident from the mandate.
"We wholeheartedly accept the failure but want to ensure that people of Maharashtra benefit from our policies. We could not reach out to the people even when we were in the government and that's where BJP claimed ground. It reached out to the masses with a properly channelised strategy and that worked even though it had hardly anything to show. People believed what they were shown and we couldn't compete with them," said Thakre.
Poll sops soon
With only three months left for the assembly elections, the state government may come up with some tailor-made sops for the people. "Long-pending issues — LBT, affordable housing schemes for OBCs, Maratha reservation — will be given a push. Other pending decisions of general public interest will also be announced soon. Moreover, the problem areas identified during brainstorming sessions with party leaders, MLAs and MPs will be shortlisted," said Thakre.