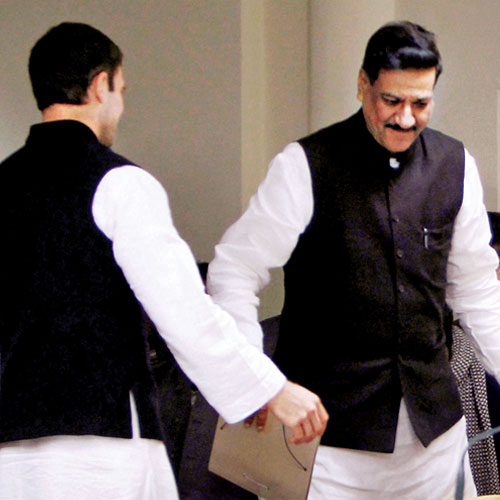 Congress vice-president Rahul Gandhi on Friday rejected the Maharashtra government's rejection of the judicial inquiry report on the Adarsh Cooperative Housing Society scam and exposed Prithviraj Chavan's flip-flop on the issue.
It was the "no-nonsense politician Rahul Gandhi" all over again — the man who will oppose his own party and government when it comes to corruption. The last time he did this was on September 27 when he tore into the Centre after it brought in an ordinance that would have overruled the Supreme Court ruling on criminals in legislatures.
On Friday, addressing a press conference in New Delhi, Rahul virtually indicted three former chief ministers, including his so-called favourite Ashok Chavan. And sharing the stage with him was Maharashtra chief minister Prithviraj Chavan.
"There is no question of protecting anybody. Personally, I do not agree with the decision (to reject the inquiry commission report). They should reconsider it," the Congress scion snapped at reporters before he stomped out.
Chavan, who has been changing his stand on the issue, later told the media that as soon as after he lands in Mumbai, he would call a cabinet meeting to reverse the decision.
It seems Rahul — who has been talking about fighting corruption for a while — had made up his mind to speak on the Adarsh report of the two-member commission headed by retired high court judge JA Patil. Just before the press conference, the Congress media department told journalists to question Rahul on the Maharashtra government's decision to reject the report. Sources said the issue also cropped up during the meeting of chief ministers for which Chavan was in Delhi.
Insiders said Chavan was not perturbed when the issue came up. In fact, he looked rather happy, as he can now fire at his detractors — who have been found guilty by the inquiry commission — from Rahul's shoulder. The Congress vice-president's fiat — incidentally issued on another 27th — will put former chief ministers Ashok Chavan, Sushilkumar Shinde and Shivajirao Nilangekar into trouble as they too have been named in the Adarsh judicial commission report.
Chavan's volte-face in the week since the Adarsh report was rejected has surprised all. Last Friday, while placing the report, he told the state legislature that his government had decided to reject it. It was the last day of the legislature's winter session in Nagpur. The CM did not give reasons for his decision. The next day, to maintain his carefully-cultivated Mr Clean image, he told journalists that he was personally against the decision to reject the report. He said it was a unanimous decision taken by the cabinet.
Without offering an explanation, Chavan has now said his government will revoke its earlier decision to reject the report. He said he was revising his stand as "most ministers in my cabinet feel I did not consult them adequately on the issue". He did not think Rahul Gandhi's public disapproval of the cabinet decision was a setback for him. "Such things happen in politics," he told dna.
Deputy CM and senior NCP leader Ajit Pawar said his party will support Chavan if he wants to revise his stand. "If Chavan is disappointed with his decision and wants to revoke it, we will welcome it," he said. NCP spokesperson Nawab Malik echoed Pawar. "We were very anguished when the CM expressed his disappointment and then rejected the Adarsh report. As the head of the cabinet, his decision is final and he should stand by it. We will support him if he wants to change his stand," he said.
Senior NCP leader Praful Patel was more forthright. He said the Congress should first decide what it wants to do. "These flip-flops are putting its alliance partner (NCP) in an embarrassing situation," he said.
While opposition leader in the state legislative council Vinod Tawade demanded Chavan's resignation, BJP leader Kirit Somaiya said Rahul's anti-corruption stand is nothing but an orchestrated drama. "First, the Congress should ask Union home minister Sushilkumar Shinde to resign and allow the CBI to prosecute Ashok Chavan," he said.
During the press conference, Rahul harped on a "framework" against corruption and pointed out that the Congress-led UPA had ushered in the RTI Act and Lokpal Bill. He said there were other bills in Parliament that ought to be passed to create such a framework. "Lokpal is one step... other steps are necessary to fight corruption," Rahul said.