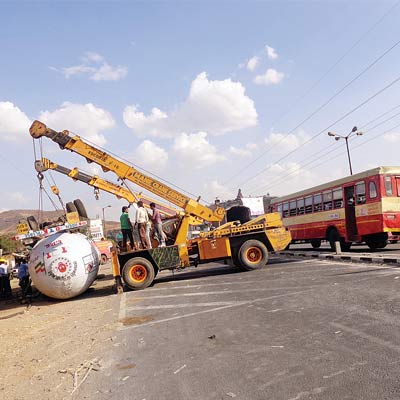 Vehicular movement on the old Pune-Mumbai highway was disrupted for more than three hours after a tanker carrying liquid petroleum gas (LPG) hit a sugarcane tractor, which resulted in its rear wheel bursting, after which the tanker turtled. The incident took place near the Somatane Phata toll booth at midnight on Friday.
A minor gas leakage was reported from the LPG tanker, which was full to its capacity, but it was plugged immediately. However, it took more than 15 hours for the highway traffic police to remove the gas tanker from the spot.
Being a weekend, vehicular movement on the highway was comparatively higher. Commuters who preferred to take the old highway to avoid traffic choke up on the expressway faced a tough time, as the traffic was moving at snail's pace.
Rohit Singhania (35), resident of Aundh said, "In order to avoid traffic jam on the expressway, I preferred to travel on the old highway. However, it was a nightmare for me as I was stranded in a traffic jam for more than two hours."
Ajit Shinde (44), resident of Viman Nagar said, "I prefer to travel in the night as there is less traffic. However, it took more than five hours to travel from Mumbai to Pune. Only a handful of traffic police were managing the traffic, which resulted into traffic choke-up."
As many as 100 highway traffic policemen were supposed to undergo disaster management training to help them tackle situations involving LPG leakage from a tanker. They should be the first one to reach the spot, while earlier they had to wait for a team of experts to reach the spot and stop the leakage, due to which the traffic used to be stranded for minimum two to three hours. As the traffic police will be ready to take precautionary measures, it will ensure that such accidents have minimal affect on traffic flow on the highway
Superintendent of police (highways) Dilip Bhujbal said, "It is very important that the highway traffic police are trained about the safety measures and they are aware how to stop the leakage from the gas container at the earliest so that there is less affect on the traffic movement along the highway. I will ensure that the training programme begins by the end of this month."
More than 70 traffic officials have undergone the training program at various oil companies based at Loni, Chakan and Aurngabad. Once the training is over, the highway traffic cops will be well equipped and be aware what all safety steps to take during any kind of disaster.
puneinbox@dnaindia.net