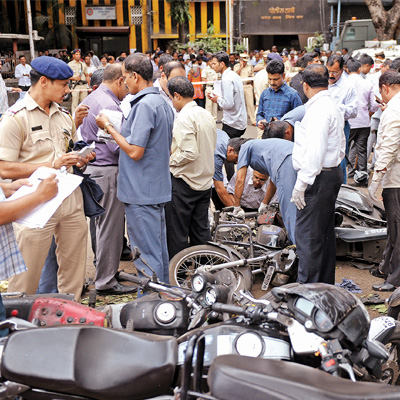 A low-intensity blast took place in Pune on Tuesday around 2.50pm after explosives tagged on a motorcycle went off. Five people, including two students and a police constable, were injured.
The two-wheeler was parked in front of the exclusive parking area for police establishment, where Vishrambaug and Faraskhana police stations, and offices of deputy commissioner of police and additional commissioner of police are located. Until last month, there was a constable manning the parking area, not allowing anyone other than police personnel to park there. Also, the blast site was a few meters away from Dagadusheth Ganpati Temple, which has been on the hitlist of terror outfits. Round-the-clock security has now been given to it by the city police's Quick Response Team.
The injured have been identified as Deepak Singh, who works at a vada pav centre near the spot, Manisha Jadhav, centre owner, Gulab Khedkar, constable, and Mayur Solunke, Sushant Solunke and Akash Shinde, students.
As per witnesses, Khedkar was about to park his motorcycle in the open space in front of the police stations when the explosion took place, which damaged the nearby motorcycles. "As soon as the blast took place, an object was flung in the air, it hit my chest, which led to injury," he said.
Jadhav said she and Singh were at the centre tending to customers when the blast took place. Something hit Singh on the head, injuring him, she said, adding, "I too collapsed and hurt my thigh."
Police commissioner Satish Mathur told the media that though the blast was low in intensity, the usual items were used to make the bomb as ball bearings and iron nails were recovered from the spot. He added that a team of forensic experts has collected samples from the spot and, after their detailed analysis, the exact composition and chemicals used in the bomb will be known. He also said that the bike (MH 11 AQ 7174) used was a stolen one. Sources said the bike belongs to a constable, Dada Rajage from Satara; it was stolen from a court in Satara on June 27.
Mathur said as of now they have no information about who is behind the blast. "ATS and crime branch of the city police are investigating the case from all the angles," he said.
How the blast took place
There is a possibility of a timer device being used. There was a power source in the form of a 9-volt battery. The timer was attached to a detonator in which explosives, possibly ammonium nitrate, were used. The spherical balls and nails were wrapped around the device with a plastic bag but no solid container was found based on the evidence gathered.