Over 20 artistes have arrived at IIT, Powai, to work on Dandi March Memorial.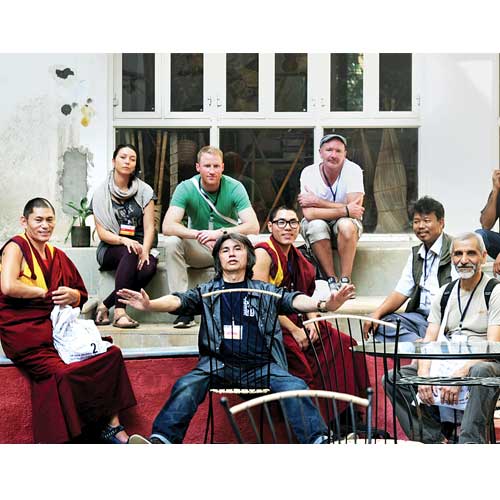 India charms people from across the world for different reasons. For 30-year-old Gavin Fulcher, a Britisher, it is Mahatma Gandhi. Fulcher's admiration for the man, who inspires the world even 65 years after his death, brought him to India on Friday. Fulcher is here to participate in building the Dandi March Memorial, which is being prepared in IIT-B to be installed in Gujarat (Dandi) later.
"I wanted to see this country… the country of Gandhi…where one man can make such a big difference," said Fulcher, who is on his maiden trip to India. When asked about his feelings as Dandi March was a protest against the British, he said, "For me, it signifies the eternal struggle of people against injustice. I am proud to be part of this great work which symbolises togetherness."
Fulcher is among 20 artistes from across the world who are in Mumbai to prepare life-sized sculptures of 40 out of 80 marchers who participated in the famous 240-mile march from Sabarmati Ashram to Dandi with Gandhi in 1930 to protest against the imposition of tax on salt. The sculptures of the rest of the 40 marchers were prepared by Indian artistes last month.
Each of the international participants has a unique idea. Derek Maddox, 50, a US sculptor said, "Leading a successful movement is an achievement. But the culmination of the movement and diverting it into positive energy are more important."
The only woman in the team is Johanna Schwaiger, 30, from Austria who is here to learn more about Satyagraha, which she has been reading about since her schooldays. Bubbling with energy is Bulgarian professor of fine arts, Emil Popov, 62, who believes the future lies in Gandhi's ideas.
Lobey Jangchup, 39, and Suu Myint Thein, 40, sculptors from Myanmar and Tibet, where similar non-violent resistance movements are gaining momentum, chose this platform to not only see the land of Gandhi but also to grab the opportunity to be a part of a memorial related to their icon. On the other hand, Sri Lankan sculptor and Professor Manorajana Herath wishes to spread the message of love. "Sri Lanka and India are separated by geography but our roots and links are the same. People should to be able to differentiate between politics and reality."
The statues, along with Gandhi's statue, are part of the monument which will be established in Dandi. IIT-B has been entrusted with the task of concept design, coordination and implementation.
Central Public Works Department will take care of construction. The Ministry of Culture is spending Rs64 crore on the monument of which Rs22 crore was allocated for research and development.
Kirti Trivedi, the project-in-charge and professor of Industrial Design Centre, IIT-B, who is the son of Gandhi's close associate Kashinath Trivedi, said, "The march was a collective effort; hence, we decided to invite people from across the world so that the memorial should also become a symbol of collectiveness."
Tracking down India's history
The IIT-B team put in two years, tracking down the families of all 80 marchers to get information so that real images of the marchers could be made. Over 65 of them were in their 20s at the time of movement. The team also studied photographs published in the newspapers and a film from the year 1930.