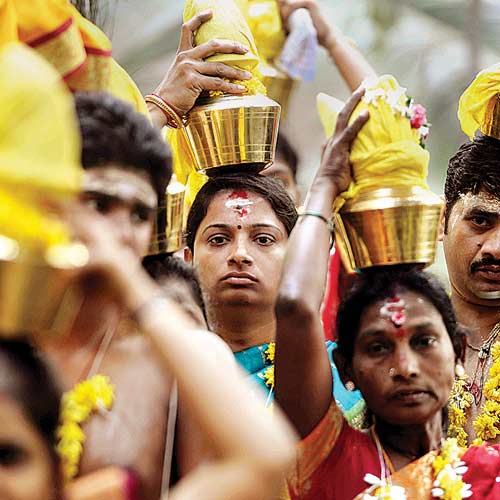 Thaipoosam was celebrated with traditional pomp and gaiety by Tamilians in Mumbai, Thane and Navi Mumbai on Friday amidst the beating of 'thavils' and playing of 'nadaswarams'.
The festival marks the marriage of Lord Karthikeya, or Muruga, son of Shiva and Parvati, to Devyani and also the handing over of the divine spear to him by his mother. 'Thai' is the Tamil month when the festival is held and 'poosam' refers to the star Pushya.
The temple of Lord Karthikeya at Chheda Nagar in Chembur wore a festive look, with thousands of devotees dressed in silk sarees and mundus thronging it. The highlight was a grand procession through the streets of the colony consisting of men and women hoisting 'kavdis' on their shoulders and dancing.
Kavdis are semi-circular wooden arches gaily decorated with peacock feathers. The peacock is considered to be the vehicle of Lord Karthikeya.
Many devotees walked through the streets with 'paalkodams' (vessels containing milk) on their heads. Processions were taken out in Dharavi and Sion-Koliwada as well.
Devotees believe that Muruga fulfils all wishes on this day. "Hence, we can ask him for anything when we carry the kavdi and paalkodam," said Shakunthala Sudarshan, a 73-year-old Chembur resident.
On this day, devotees make it a point to sing songs at their homes for the Lord.