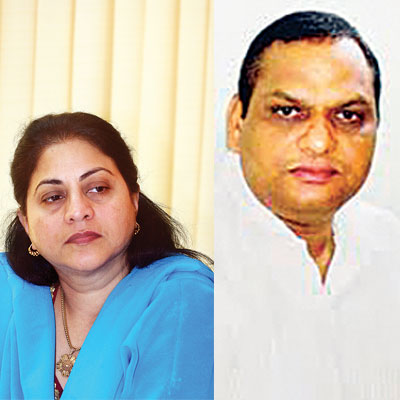 Has the Maharashtra Navnirman Sena (MNS) changed its stance from being a party against north Indians to a party that does not mind living side by side with north Indians?
Looks like that's the case, as in the list of its star campaigners submitted to the Election Commission, there are two north Indians—Rita Gupta and Vageesh Saraswat. A Muslim, Haji Arafat Shaikh, also figures in the list.
Rita Gupta's husband is a close associate and business partner of MNS chief Raj Thackeray, while Gupta herself is a vice-president of MNS. Saraswat is a former journalist and another vice president in the party.
The party, which is known for its violent agitation and attacks against north Indians, including taxi drivers and job aspirants, is slowly transforming. In the recent past, only once has Raj made any public utterance against north Indians.
The party's overtures to north Indians, whether deliberate or unintentional, do not end here. MNS leadership has entrusted the task of managing the election campaign of its North-West candidate, Mahesh Manjrekar, in Dindoshi and Versova segments to Akhilesh Chaubey, the vice-president of its legal wing.
As if these were not enough, Chaubey and Arafat have been making speeches in Hindi during the campaign in these areas.
"These leaders have been told to speak in Hindi in these segments considering the north Indian population," said an MNS leader.
"They have been with us and our party right from the beginning, so there should be no problem in making them our star campaigners. We have had no issues with anybody who has been here for long and have become part of us and respect the Marathi culture. We have a problem with those who come here and do not respect our culture and try to further their aspirations," said MNS general secretary Nitin Sardesai.
Raj Thackeray has even attacked Amitabh Bacchan earlier for his soft corner for UP and also repeatedly criticised north Indians in the city for nursing political aspirations, and cited politicians such as Sanjay Nirupam and Kripashankar Singh as examples.
However, the MNS supremo recently toned down his stance and invited Amitabh Bacchan for an event organised for Cine Artistes Welfare.
"Rajsaheb has never had any problem with north Indians who have been living here for long. The party had a problem with certain sections of the north Indians in the city and not north Indians as a whole," said Chaubey.