Christmas is best celebrated when enjoyed with all. The most renowned clubs in Mumbai bring to you the most happening Christmas celebrations ever.
-IBAR
This Christmas, IBAR brings you a magical Christmas, with frosty the snowman & winter wonderland all in one special night. It is a special theme party, a costume party -"SASSY SANTAS & THE ELF's" on 24th December from 9pm onwards & the party doesn't stop till 4 am.
Special treats for visitors at the party include...
1. 50% off on the entire bar till 1:30am
2. Every one dressed up heavily in the theme gets 2 free drinks
3. Open gates
IBAR also offers new cocktails created and made especially for the Chistmas Season like the CHristmas holiday punch and Strawberry EggNog.
Address: Shop No. 7 & 8, Ground Floor, Gleki Building, Building No. 2, ONGC Colony, Bandra Reclamation, Bandra (W), Mumbai, 400050
The Christmas Punch: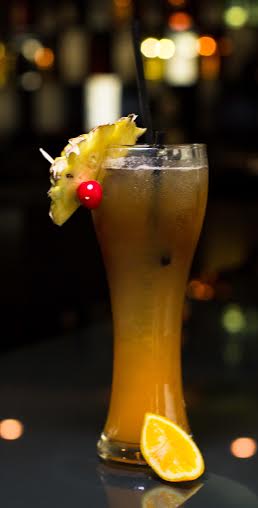 The Big Bang Bar And Cafe
Eat, Drink and be Merry. The Big Bang Bar Cafe invites people to White Winter Christmas Eve to celebrate Christmas eve with special Christmas decor, fun cocktails and food with friends and good cheer. For a cover charge of Rs.500, with a drunken elf and a Christmas kiss waiting for you at the alfresco bar, this Christmas eve is all set to bring in the holiday cheer with a bang. The party goes on till 1.30am.
Address - Bandra Location-3rd Floor, Kenilworth Building, Above KFC, Linking Road, Bandra West, Mumbai
Oshiwara Location: Ground Floor, Meera Co-op Housing Society, Oshiwara Link Road, Andheri West, Mumbai - 400053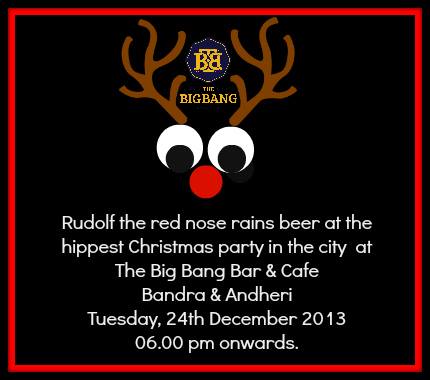 Bonobo
Bonobo has a Christmas party on 24th December with some Funk, Ghetto, Hip Hop, Glitch Hop mashed up with some retro and disco belted out by Bonobo Resident DJ's Amul Lokanathan and Pradeep Maharana. Wear your dancing shoes and be ready to dance till you drop at Bandra's hottest rooftop bar. The entry charges are Rs.1000 with unlimited beverages and starters.
Address-Kenilworth Mall Phase 2, 2nd Floor, Off Linking Road, Linking Road,Bandra West, Mumbai

-Tryst
The Tryst has organised 'X-mas - The Snowfall at Tryst' There is unlimited premium alcohol along with an array of starters and enjoy along with DJ AJ.The entry fees are Rs. 1800/- for girl, Rs. 3000/- for boy stag, Rs.4000/- for a couple.
Address-Phoenix Mills Compound,High street Phoenix,Senapati Bapat Marg,Lower Parel,Mumbai

The Blue Frog
The Blue frog has a Christmas eve party from 10.30pm onwards to 1.30am. The soundtrack will be played by DJ SA. The entry fees charges are Rs.1500 full cover (single) and Rs.2000 full cover (couple).
Address-Mathuradas Mills Compound, opposite Kamala Mills, Tulsi Pipe Road, Lower Parel. Tel: 022 6158 6158.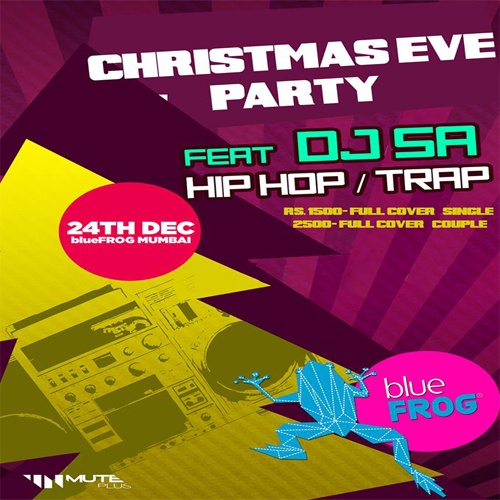 Shockk
Shockk has organised a Christmas eve party 7.30 pm onwards which offers unlimited drinks and 5+5 starters*. The soundtracks are going to be played by DJ CAS.
Address-5th Floor, Crystal Shoppers Paradise Mall, Off Linking Road, 33rd Road, Bandra West, Mumbai, Maharashtra, India 400050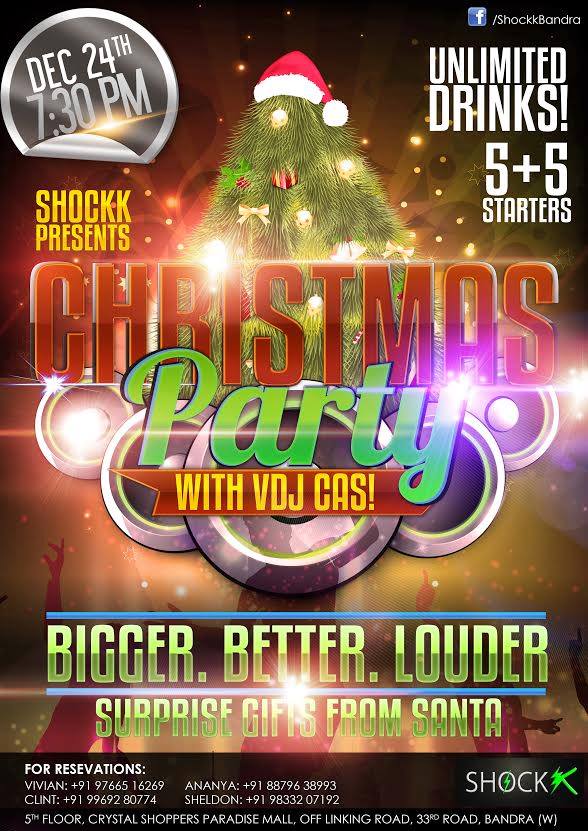 Canvas
Canvas is hosting a White Christmas theme party. The dress code for the party is white, red and gold. The decor is going to be of snow flakes, angel wings and feathers. The soundtrack is going to be played by DJ Shivas. The entry charges are Rs 1000 or Rs 2500 cover charge with entry. The VIP entry is for Rs 4500.
Address- Palladium Mall, High Street Phoenix Senapati Bapat Marg, Lower Parel, Mumbai