Finding Anchor: Kandivli student teaches underprivileged kids, get them admitted to prestigious school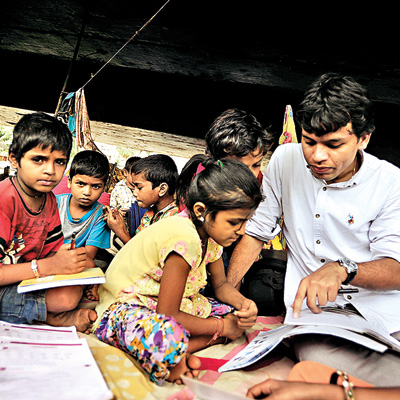 When Prince Tiwari came to the temple one day, it changed the destinies of 24 street children.
If this is how the desi version of Cinderella could be written, then that has already happened in Kandivli.
Only, Prince Tiwari is not a fictional character. It's the third-year degree student's real name. When he saw 24 children begging near the temple, he enquired them about their studies.
"I realised that though they are attending school, they are not learning anything. I checked their notebooks. They were blank ... sometimes one word was written somewhere," says Tiwari.
That's when he decided to teach them and the story started.
Like in the fairytale, things did not go well for the Prince and the Cinderellas initially.
Despite promising the annual fee, many schools refused to take them. Once in school, many clinics even denied them mandatory check-ups.
From this year, all the 24 children will study at the Thakur Shyamnarayan School, from nursery to the seventh standard, thanks to Prince's effort.
"I used to pull them with me from the temple to stop them from begging and study. I used to teach them in the morning for 3-4 hours and convinced their parents not to send them for begging and help them study," says Tiwari.
Prince was not alone. Help came from classmate Payal Shah. Both are third year degree students of accounts and finance at Thakur College of Science and Commerce.
Then, the Boisar-born Prince was offered an articleship for three years in a reputed company after clearing IPCC, one of the competitive exams to become a chartered accountant.
The money he earned from overtime and extra work he spent for the street children. Some good samaritans, who caught Prince and Payal teaching these street children under the bridge, got curious, stopped by. Impressed by Prince's efforts in kind, they rewarded him with cash.
Ganesh Samant, MD of Abhitech Pvt Ltd, donated Rs25,000. TNT India Pvt Ltd employees contributed more than Rs 50,000. Citizens like Christina Lobo Jha and students Divyashri Manglorekar, Harish Gupta and Shrikant Thekkepat all contributed money. A media firm, 'What media', provided the stationery.
Prince could thus gather Rs2.3 lakh. With that, he funded the children's education, stationery and food.
"The parents of these children were either sweepers or cloth buyers or sellers," says Prince.
Only Thakur Shyamnarayan High School admitted them. When I had to take them for health check-ups, many clinics denied it. "Only, one clinic, Zeenat Babul, did it free of cost," says Tiwari.
"I am grateful to all those who helped me in admitting them to a good school. I have registered my own non-profit organisation this year – Teresa, the Ocean of Humanity Foundation," he said.
Asha Atram, whose grandson is in the school, says, "I pick garbage with my husband. I am grateful to Tiwari who helped our kids."
As far as Atram and other parents are concerned, it's long live the prince, Prince Tiwari.
To help Tiwari, contact him on
www.facebook.com/teresatheoceanofhumanityfoundation