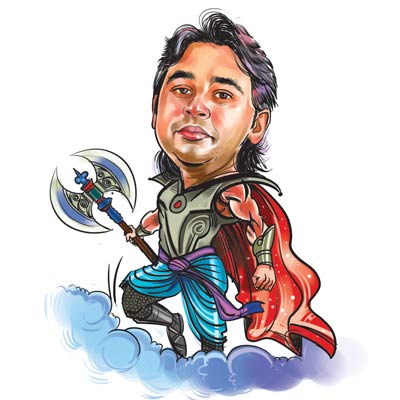 Industry minister Narayan Rane is facing one of the most challenging tests of his political career this time. The stakes for Rane are very high considering the fact that if his son Nilesh Rane loses Ratnagiri-Sindhudurg seat, it will be a major setback for Rane Sr.
The odds are stacked against the former chief minister and the elections have turned out to be Rane against the rest in the political spectrum. While the campaigning came to an end on Tuesday, Rane is a lone ranger in the constituency without much help from his alliance partners.
Sawantwadi NCP MLA Deepak Kesarkar defied the NCP leadership and has resigned from his party and the Legislative Assembly too. Several NCP activists have resigned and they are all now openly campaigning for Shiv Sena candidate Vinayak Raut.
Despite warnings by NCP supremo Sharad Pawar, the state president of NCP, Bhaskar Jadhav, himself completely turned his back on Rane's campaign.
Jadhav is an influential leader in Ratnagiri district. Pawar could not convince Jadhav to campaign for Rane, despite holding a public meeting in support of Rane in the constituency.
The only solace from the NCP is that minister of state Uday Samant, who is campaigning for Rane, represents the Ratnagiri assembly constituency. The other disadvantage, in both districts put together, Rane is the only Congress MLA.
"It is a question of survival for the NCP workers and leaders in the constituency as Rane had declared publicly that he would finish of the NCP in this constituency. More importantly, he wooed several NCP activists, who had won elections to the Zilla Parishad, Municipal Council, and Panchayat Samithis and tried to break the party in this region. Besides, there is general resentment against Rane and his family in the constituency due to his roughshod ways," said a political observer from the region.
Though former NCP MLA Ramesh Kadam has expressed his support to Rane, Kadam's followers are busy in Raigad campaigining for Kadam.
Rane has managed to make some inroads in places like Rajapur and Sangamneshwar, which had given him lead last time. Out of the total 46,750 votes Rane got in 2009, 38,000 were from Sindhurdurg alone.
The situation is not the same this time. Several groups, which are affected due to development projects like the Jaitapur project, have turned against him.
"Rane has managed to create a lot of enemies in the last five years," said a local journalist.