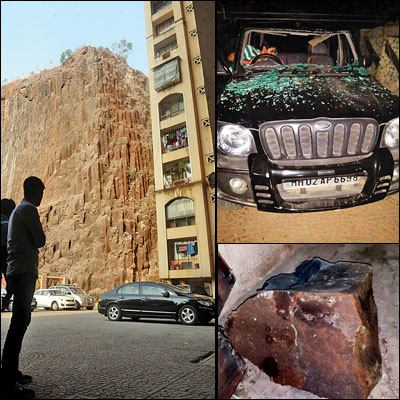 People around the famous archaeological structure Gilbert Hill in Andheri (West) have been living with fear. Large boulders and rocks from the hill keep crashing into their residential compounds regularly.
On Tuesday night, three large rocks came hurtling down into Atlantic Tower Society located in the Sagar City area and damaged three parked cars. The wall around the property was also damaged. A couple who were walking in the premises miraculously escaped with minor injuries. According to the residents, this is a problem they have been facing over the past five years.
Shahnawaz Deriya, a resident of Atlantic Tower, said, "We are really concerned about people's safety, especially the children. We have a huge compound for people to walk around and children to play. Rocks keep falling every three or four days. More than 50 cars have been damaged in the past few years. Although there has been no fatal accident, many have sustained minor injuries."
Two apartment complexes, Atlantic Tower and Indian Ocean, are under threat as both of them are located at the foothills, hardly 50 metres away from its base. Both the societies that came up between 2004 and 2008 have more than 300 flats, with around 1,200 people living in them. Over 90 cars are parked at the compound.
According to the residents, due to frantic growth of buildings around, the hill is in an unstable condition. "The condition will worsen during monsoons. We had approached the BMC before but nothing was done.
Two days ago, we wrote to local MLA Ashok Bhau Jadhav; he visited our society and assured us that more than Rs1 crore will be sanctioned for jacketing of the heritage structure. However, he said the process will begin after the elections," said Shaila Farmer, another resident.
Confirming this, Jadhav said, "I have had meetings with several departments and we have taken note of the issue. It is a serious one. We will start the jacketing work as soon as we get the required approval."
Grade II heritage
Gilbert Hill, a heritage structure, is a 200 ft tall monolith column of black basalt rock located in Andheri (West). The vertical volcanic rock structure was formed when molten lava was squeezed out of the earth's clefts during the Mesozoic Era about 66 million years ago. Gilbert Hill was declared a National Park in 1952 by the central government under the Forest Act. In 2007, after years of lobbying by geologists, the hill was declared a Grade II heritage structure by the Municipal Corporation of Greater Mumbai (MCGM). Atop the rock column, the Gaodevi and Durgamata temples, set in a small garden, are accessed by a steep staircase carved into the rock. The hill offers a panoramic view of suburban Mumbai.