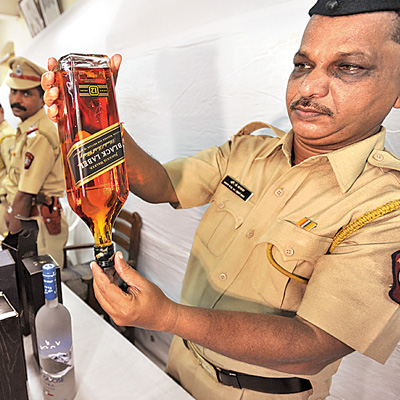 It's election time, and as can be expected, liquor is flowing abundantly, and voters and political activists are consuming with gay abandon.
The excise department has lodged over 2,900 cases in a month for offences like smuggling (of liquor) into Maharashtra from neighboring Goa, Daman and Silvasa where liquor is cheaper, brewing hooch and sale outside licensed premises.
Thane division leads in such offences with 613 of the 2971 cases detected in the state in March. Nagpur comes a close second with 612 cases, followed by Pune (563), Kolhapur (492), Aurangabad (347) and Nashik (344).
The number of cases detected for the corresponding period in 2013 was 2,656. The number of arrests too has increased to 1,629 compared to last year's 1,200.
In March, the quantity of liquor seized was 4,74,375.63 bulk liters (BL) worth Rs 3,46,69,719 as compared to 4,77,712 BL worth Rs 2,30,46,628 last year.
A senior excise official said: "These figures include cases of liquor smuggling, hooch, duplicate liquor, liquor being served outside legal premises like a dhaba which does not have licence, and even destruction of chemicals and material by our staff."
At times, consignments are smuggled in from neighboring states by public transport to evade detection. The use of pouches and plastic bottles to pack liquor has also made things easier as that reduces weight and lessons the risk of co-passengers detecting it.
"We cannot check all buses and trains as then we will be accused of harassment. Most people travel for work and hence we cannot check all vehicles, unless we have specific information," the official said, adding that they were sending reports to the Election Commission ever since the model code of conduct had been imposed.
"There was drought in rural areas last year. This year, because of bountiful rains, the rural economy is in a comparatively better shape and people have liquid money, which is reflected in rise in liquor sales. The increase in water levels in spots where hooch is distilled is also giving a boost to illicit brewing," the official said.
The increase in excise duty in last year's budget has led to rise in alcohol prices, giving additional incentive to smugglers. This has also given an impetus to illicit brewing.
Thane division, which shares boundaries with Goa and Daman, and comprises areas like Mumbai city and suburbs, Thane, Raigad, Ratnagiri and Sindhudurg, has the largest concentration of excise officers in the state. This is one reason why there is such a high number of detection here.
According to the official, the department has to fill up vacancies—over 120 of 250 posts of inspectors and 320 of 825 of constables—to help ensure better crackdown.