On the occasion of World Cancer Day on February 4, we celebrate the indomitable spirit of three downtown residents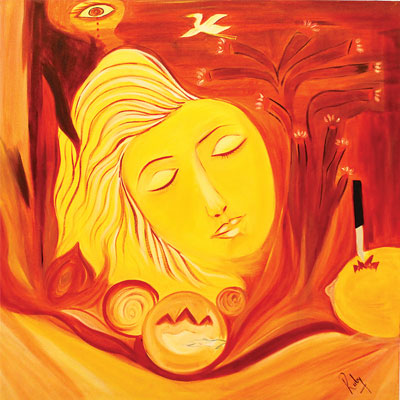 Cancer survivors will attest the fact that it is impossible to forget or even ignore how the insidious fingers of this disease raked through their lives and change them completely. Though this dreaded disease does manage to browbeat many, there are several, who rise like the fabled phoenix and spread their wings and fly high. Here are three phenomenal ladies, who have stood stoically through the ebb and flow of the disease, and transformed themselves and their lives into something beautiful and empowering.
Artistic catharsis
The works of Cuffe Parade resident Ruby Ahluwalia, artist and bureaucrat, stem from her painful stints with chemotherapy. Ahluwalia, a breast cancer survivor, shares, "The pain of the whole treatment was too much to handle. But rather than getting consumed by it, I wanted to express it." Ahluwalia literally dragged this excruciating pain into painting. Each piece of her art collection, 'Towards Satori', blossomed in between chemotherapy sessions. "Each painting shows my mental state at the time. As I progressed in chemo (and art), it became more of a spiritual journey for me which led towards self-realisation," she explains.
It was this painful clamour of the disease that also inspired her to start Sanjeevani–Life Beyond Cancer, an NGO that cares for, counsels and rehabilitates underprivileged cancer sufferers. Sanjeevani's latest initiative is 'Can-a-Cheer', which invites people to shoot a short, 2-3 minute film to inspire a cancer patient.
Second chance
Tarana Khubchandani, owner of Gallery Art & Soul in Worli, also dipped into the same pool of inspiration. This Worli resident was colonised by breast cancer at an early age but she fought back fiercely. She founded PASSAGES, a women-centric NGO that provides strength to urban women by educating and supporting them (by offering legal, mental and social support) through different stages in life, with three like-minded ladies. It also supports breast cancer patients. Together with PASSAGES and the plush Palladium Hotel, Khubchandani recently hosted The Pink Filly event. Arzan Khambatta's quirky horse-head sculptures, painted on by luminaries of the art world (think Paresh Maity and Brinda Miller), were sold to raise funds for the NGO. "Cancer changed me in many ways and all for the better. I am stronger, more sensitised, and compassionate; my priorities have changed. I truly feel that because I have had another chance at living my life, I have to do something to make a difference and add value to my own existence," says Khubchandani, more aware now of the ephemerality of existence.
Making a difference
Breast cancer also left an indelible mark on Devieka Bhojwani's life. But this Marine Drive resident refused to let it hem her in. Bhojwani has many strings to her bow–she is a musician, founder member of Citizens for Peace and assists her mother in the running of Café Samovar. Beyond the spotlight, she is also the vice president at the Women's Cancer Initiative at Tata Memorial Hospital, a foundation that helps nearly 500 women fight cancer annually. Associated with Pinkathon, an all women's run aimed at creating awareness about breast cancer, she says, "We did not want to associate cancer with dreary things, as it has been in the past. The idea is to deliver a serious message of awareness but in the spirit of fun." Pinkathon, already entrenched in Mumbai, Pune, Delhi and Bengaluru, is all set to spread its message to seven other cities. On the anvil is the Lavasa Women's Drive next month, where all participants will get a free cancer check-up.
Cancer care
www.sanjeevani-lifebeyondcancer.com
Provides holistic care, counselling and rehabilitating cancer patients.
www.epassages.org
PASSAGES–an NGO that empowers women
www.wci.co.in
This foundation takes care of various issues related to cancers in women such as breast, cervical and ovarian cancers, through funding for cancer research, creating awareness and offering financial support.
www.pinkathon.in
Pinkathon is a women's only 10-km run that aims at encouraging women's health and fitness as well as increase breast cancer awareness.
www.lavasawomensdrive.com
An only-women car drive from to Lavasa with impactful social messages displayed on the cars. This year, a health camp will be organised for preliminary cancer check-ups.