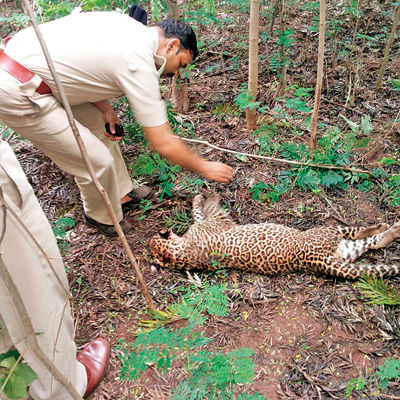 A two-year-old leopard died after a fight with another leopard on Tuesday morning in the Panjarpol area of Chunchale Shivar.
At around 8.15 am, two supervisors of Panjarpol, Gopal Patil and Dattu Shirsath, hear the two cats roaring. A little later, they roars became louder, after which the two informed their senior Sagar Aagale. From a distance, they could see the two leopards fighting. However, around about half an hour later, the roaring stopped.
By that time, another supervisor, Baban Nimbkar, had arrived at the scene. Nimbkar gathered the courage and moved towards the leopards. When he reached the site, he saw one leopard lying dead.
Soon, forest range officers Rajan Gaikwad and S M Gosavi arrived with their team. They found pug marks and tufts of fur lying around. The forest officials inspected the body of the leopard to ascertain if its nails and other parts were intact to rule out the possibility of poaching. Once they had confirmed that the leopard had died in a fight with another leopard, forest personnel carried its carcass to Nehru botanical garden. A post mortem was conducted and its body consigned to flames in the forest garden in the presence of senior officials.