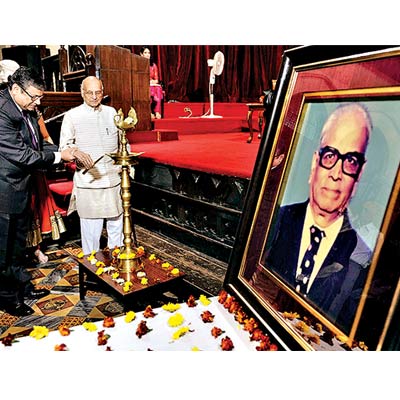 The centenary birth celebration of former vice chancellor Dr Trimbak Tope was held at the Mumbai University on Friday.
Tope, an educationist and a legal luminary, had worked closely with Dr Babasaheb Ambedkar in drafting the Constitution of India and during the latter's tenure as the law minister. He also participated in the freedom struggle.
Apart from being the university VC, Tope was also the principal of Government Law College (GLC) and Sheriff of Bombay. Tope rose to the rank of Major in the National Cadet Corps (NCC).
Former additional solicitor general and senior counsel Rafiq Dada, who learnt law under Tope, said that his first encounter with the Constitutional expert was at an NCC camp. "He could easily intimidate anyone with his strong voice but he was very soft-spoken," said Dada adding that his second encounter with Tope was at the GLC.
Tope taught passionately and authored over twenty books, the most famous being 'Constitutional Law of India', which is cited even today.
Another student, danseuse Kanak Rele, fondly remembered Tope. "At that time, dancing was compared to prostitution. Girls from good families never danced. Sir (Tope), in his booming voice said — "Do what you like; never listen to critics. I want my daughters rubbing shoulders with men", said Rele bursting into tears.
Rele has now set up a dance academy.
Tope was also the teacher of personalities like former President of India Ptratibha Patil, eminent lawyer Soli Sorabjee and renowned jurists Justice Srikrishna and Justice Ajit Shah.
His favourite subjects were Constitution of India and Hindu laws. Tope's daughter, Mirnalini Deshmukh, a leading lawyer, recounted how her father used to cite cases that he fought at the dinner table. "That got us so excited," said Deshmukh.
Several other eminent personalities were present at the function. Among them were Bombay High Court justices SC Dharmadhikari, AS Oka and MS Sonak. Former justice CS Sharmadhikari, who was Tope's contemporary, was also present.
At the function, the second edition of Tope's book on former Justice Mahadev Govind Ranade was released.
Dr. Tope was born on the February 28, 1914.