It's been over three months that 30-year-old Ghatkopar based Rohidas Pokharkar has lost his job. The sole breadwinner of the family is lying paralysed at his 150-square-feet room in Daksh Chaya Chawl at Amrutnagar in Ghatkopar West.
Dna had reported on October 27 that he lost movement in his hands and legs after being force fully restrained to the bed when he was undergoing treatment for fever at Shanti Niketan nursing home in Ghatkopar West run by cardiologist Dr Praful Lokhande.Having spent over Rs four lakhs in hospitalizations for treating fever of an unknown origin and later spending daily on physiotherapy and electric stimulation treatment at charitably-run Hindusabha Hospital at Ghatkopar West has left Rohidas penniless.
Rohidas is contemplating moving consumer court against Dr Praful Lokhande and his nursing home for restraining him forcefully to the bed that led him to be grievously wounded and paralysed.
Legal aid for Rohidas is elusive as Vilas, his brother is running from pillar to post for arranging an advocate who can fight the case against Dr Lokhande and his nursing home.
"I will have to spend close to another Rs 1,00,000 to hire an advocate to fight a case against a private doctor like Lokhande. Free legal aid is just very difficult to find. I appeal to any lawyer who has faith in justice system to come forward and help us," Vilas told dna.
Dr Lokhande also consults at privately-run LH Hiranandani Hospital in Powai and Fortis Hospital in Mulund.
On September 10, Rohidas and his brother Vilas sent a letter to Dr Lokhande describing their plight and sought help for sky rocketing medical expenses. Dr Lokhande however denies having receiving any such letter. He alleges that he was wrongfully treated by a local homeopath Dr Sameer Bhor and consequently by doctors at Shanti niketan nursing home who restrained his arms, legs and chest tightly for over thirteen days in the intensive care unit.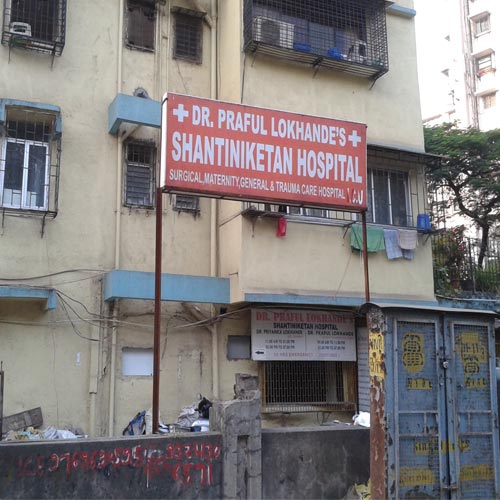 "Three months ago, when my brother was admitted to the nursing home on reference of local homeopath Dr Sameer Bhor, staff in the ICU tied him up very tightly with bandages and blankets. After my brother got paralyzed we wrote to Dr Lokhande to the effect that we would move consumer court for medical negligence and that he should foot expenses and compensation of at least Rs 20,000 a month for my brother's plight," said Vilas, Rohidas's younger brother. Rohidas developed radial nerve palsy due to suppression sores on his limbs, a condition in which his hands and legs have shriveled. His limbs have swollen red, developed gangrene and are oozing pus. "I cannot even button my own shirt. I am being fed by my mother as I cannot pick up a spoon. I have lost my job as a computer operator as I cannot type anymore," rued Rohidas.
When contacted Dr Lokhande told dna, "I have not received any such letter from Rohidas's brother. I have no idea if his limbs are paralysed or how is he doing now as he was discharged three months ago from the nursing home and he never approached us for treatment again. We don't deny though that the wounds were caused by restraints. It's rare but such things do happen over course of treatment."