Children participating in the four-day camp at Kharghar's Chinmaya Prerna will do just that, through various fun-filled mediums like games and workshops.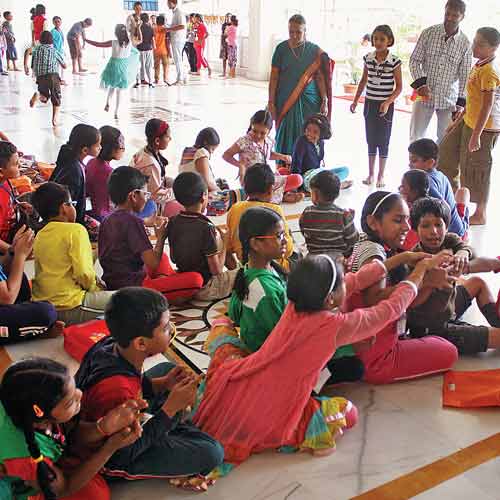 Chinmaya Prerna, the Navi Mumbai wing of Chinmaya Mission, is giving children of various age groups a chance to learn values that Lord Krishna embodied through a camp that is annually organised by the institution. It started on Wednesday and will go on till Saturday.
Titled Shorgul in Gokul, the four-day camp is the first residential camp being organised for children of the Bal Vihar. A total of 97 students comprising pre-primary to secondary school students are participating. While some of them go back home after the day's activities end, most of them are lodged in the ashram.
The aim is to indulge them in activities that will help them understand different values Krishna stood for and how important it is to incorporate them in the daily life. And, it is not some discourse or lengthy presentation that the children have to sit through, but an interesting list of activities conceived and designed by the ashram volunteers and Bal Vihar teachers.
It starts at 7.30am with prayers post which children prepare for some serious action. "Workshops and games are designed keeping in mind the age group, the purpose of the camp and the theme decided for that particular day. For instance, on Thursday, the theme was 'Krishna as a mischievous boy'. So, we had a game called 'Krishna and the Butter', that is similar to 'dog and the bone' except the child who manages to get hold of the chocolates (a safe yet tasty replacement for the butter!) is taught to share it with friends," said CK Chinmayaprasad, one of the volunteers.
He added, "On the very first day, we had an ice-breaking activity in order to help kids mingle with each other well. We made a puzzle out of some of Krishna's famous photos. One child with one piece would see the main photo showed by the volunteers and come forward to place it rightly."
The workshops also focused on inculcating team building, leadership qualities, effective communication skills and creativity. In one of the activities, a team leader for a group was given a drawing and told to explain it only by speaking in order to make the communication effective."We also made the kids play games such as Housie, but with a twist. Each kid was given a card with names of people, places or things associated with Krishna. The explanation for that particular name or place was read out to them before. When the particular name is announced those who have it in their card will tick it. This was to test their knowledge about Krishna but also have them learn new things in an interesting way," said Manjula Suresh, another volunteer.
Each evening there will be festive celebrations such as dahi handi, Holi or raas garba. As night draws closer, kids look forward to what is called 'guess what?' — movie screening session about Krishna. Kids also attend sessions by acharyas. They learn the meaning of shlokas and how they can be used in our life.
"Yesterday they learnt about 'Madhurashtakam', a shloka written by Swami Vallabhacharya describing everything about Lord Krishna — his speech, his heart to the flute he plays — to be sweet and endearing. The meaning is explained, in a way that guides them to be like Him and follow his values realistically," said Br Ved Chaitanya.
All in all, the camp has a plethora of activities that give the kids an opportunity to learn complex values and concepts in a simple, interesting way.