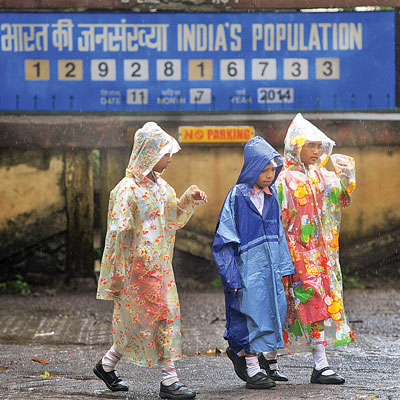 Fifty three-year-old Amravati Trivedi of Bainganwadi hands out condoms to people in households in the community every morning. She is a community-based worker with Family Planning Association of India (FPAI), who coaxes men and women to undertake birth control mechanisms.
"Two years ago, people used to turn me away. But persistence has paid off. More women have started using contraception in the past two years," she says.
In 2012, 8,390 people across four FPAI units in Mumbai and Thane availed contraception services. A year later, the number went up to 12,488 people, a 48% increase.
"In 2011, Tata Institute of Social Services (TISS) had reported that contraception acceptance rate in suburban population was 28%. The rate indicates the number of people aware of contraceptive methods like oral pills, surgeries, condoms, etc. The figure rose to almost double in 2013," said Shivaji Kare, FPAI branch manager.
FPAI reaches out to 20 lakh people through its outreach programmes in Bhiwandi, Thane, Mumbai Central and Kurla.
Another link worker, Soni (28), observed that popping oral pills was the most popular contraceptive method. "The usage of oral pills, Mala-D, on a daily basis tops the list. While last year 2,749 women opted for Mala-D, this year the number has risen to 4,702 (37%)," said Soni.
The second most preferred method among females is tubal sterilization. "Up to 35% of women have opted for permanent sterilization surgeries," said Kare.
Half the women who opt for oral pills or sterilization, prefer to instal a temporary Copper T device in their uterus to stall pregnancies, suggest FPAI statistics.
A woman among the Muslim families in the slums in Shivajinagar and Baiganwadi in Kurla gave birth to 18 children in her lifetime. "Sterilization surgeries are heavily discouraged in our community. But couples are now realizing the importance of having small families," said Salma Shaikh, a local in Baiganwadi.
Women here are comfortable consuming one contraceptive pill every day for 21 days before their periods and then taking iron supplements for seven days of their monthly pack or opting for surgeries, but very few prefer injectable method of contraception.
"Every three months, if a woman take one milliliter of medroxyprogesterone acetate injection, she will not conceive. But the fear of needles prevents many women from opting for injectable contraception," said Kare.
Men in the family are far worse when it comes to adopting family planning methods, FPAI data revealed. "Barely 18 men in the communities comprising 12,488 people underwent sterilization. It is a negligible number. We are expanding our activities to involve men in outreach programmes," said Kare.