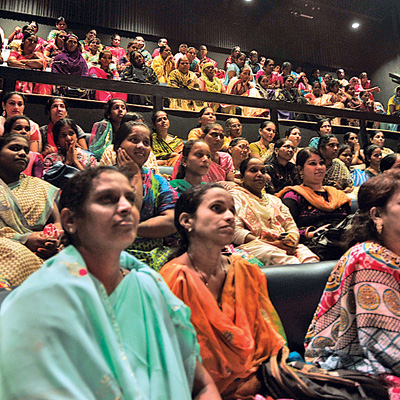 The air was filled with the hushed voices of women in the theatre. Many were reluctant to attend the staging of 'Kissa Yoni Ka', the hindi adaptation of American playwright Eve Ensler's – The Vagina Monologues — on Tuesday morning at Prithvi Theatre in Juhu.
At least 250 women, young and old from the dingiest slums in Mumbai were seated in anticipation nervously fidgeting with the ends of their dupattas waiting for the play to begin. The mood slowly transformed as the stage was set on fire by five actors, including Mahabanoo Mody Kotwal and Dolly Thakore.
Tuesday's was the first in a series of 10 performances of the play to be alternatively held at Prithvi theatre and Jai Hind college auditorium reaching out to nearly 3,000 women from the slums of Thane, Mankhurd, Dharavi and others.
Vagina, in hindi, is used as a cuss word. The essential organ of the female body is trivialised by being called a 'phuddi' in hindi or 'mayyan' in rajput clans of Rajasthan. "Moreover, all the words of abuse are based on a women's private parts. "But if a vagina starts speaking, as in the play, it will start posing problems for everyone," said 38-year-old Nitya Iyer, a Dharavi resident.
Of the few men that attended the play, 38-year-old Yogesh Kamble said that girls are conditioned to believe that they always need to keep themselves covered with a dupatta. "This conditioning makes women all the more prone to being violated," he said.
The play touched upon close to 15 horrific real life stories from over 200 women interviewed across the globe. In one, a husband injured his wife while shaving her vagina with a blade; in another case, a young girl was shunned upon as her menstruation cycle set in.
As the 90-minute play progressed, suppressed whispers of the women transformed into loud laughter. The play deeply touched Sunita D'Souza, 29, a Dharavi resident. Sunita was married off as a child and delivered a child at 15. "I was completely clueless about childbirth. I believed that a baby will pop out of my mouth. After the agony of childbirth, a sense of relief took over me," said Sunita.
While men strut across public spaces confidently, women are conditioned to be shy. "Men can shoot their organ and urinate at public spaces, which is not to say that women should start emulating them.
However, the least women can do is be enabled to confidently move in public spaces," said Mahabanoo Mody Kotwal, director of the play.
After watching the play, these women intend to initiate discussions on sex and their sexuality amidst slum communities. "If a vagina was a tongue, it would have recounted a thousand painful stories. It is a organ to be celebrated and not looked down upon. We will teach women to assert their sexuality instead of shying away from it," said Iyer.