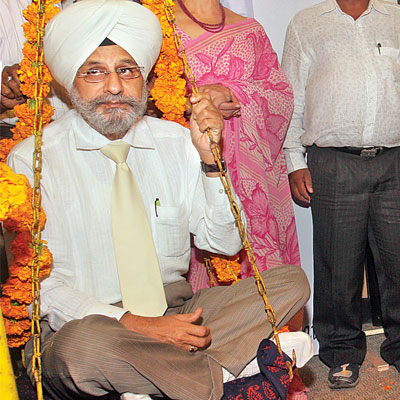 Principal of the prestigious GN Khalsa College in Matunga was caught by the anti-corruption bureau (ACB) while allegedly accepting a bribe of Rs25,000 from a student for admitting him. The accused, Prof Ajit Singh Theti, 63, along with his personal assistant Nikita Vaid, 35, had allegedly demanded Rs30,000 from the student's parents for giving him admission in Std XII science stream.
The incident has stunned the academic world as Theti, who was also secretary of the college managing committee, is a well-known figure. College chairman GS Bawa was unavailable for comment. The college is under the purview of the Sri Gurudwara Prabhandhak Committee, Amritsar.
On Tuesday, the student's parent, a government employee who is also the complainant in the case, had approached Vaid for admission. An ACB officer said, "Vaid demanded Rs30,000 from the complainant to be handed over to Theti and her. She told him that receipt or acknowledgment will not be given for the amount and that the money cannot be considered as donation for the institution. They also told the parent that the money would have to be paid as the student was not eligible for admission because of his grades."
Since the complainant did not want to cough up that amount, he approached the ACB and narrated the incident. "We asked the complainant to pay the amount so that the accused can be caught red-handed," added the officer. On Thursday afternoon, the complainant went with the amount and negotiated it down to Rs25,000.
Following this, a trap was laid and the amount was handed over to both Theti and Vaid. Soon after, the ACB officers, who were waiting outside, barged in and raided the office. The money, in marked currency notes, was recovered from the office after which both Theti and Vaid were arrested. A total of Rs4 lakh was also recovered from Vaid's handbag.
"We are still in the process of searching the principal's office and home. We have not recovered anything as yet. Investigations are on," said Vishwas Nangre Patil, additional commissioner of police, ACB.
The ACB also has recordings of telephone conversations between the victim and the principal, which are crucial evidence in the case, the police said. In the conversation, the principal can be heard telling the parent that the money is for his personal use and not for the college.
Khalsa college, which was established in the late 1930s, is among the oldest institutions of higher education in Mumbai.