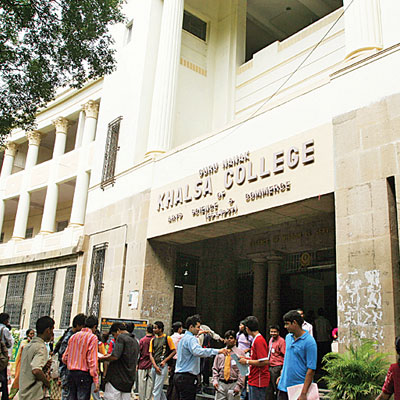 The arrest of Khalsa principal on charges of cash for admission has blown into a bigger controversy with members of city's Sikh community claiming that the college is involved in a multi-crore racket.
Shaken by the taint of corruption on Mumbai's one of foremost institutions for decades, its governing body, the Shiromani Gurdwara Parbandhak Committee, is sending a four-member panel to probe into the affairs of the Matunga college.
Principal and managing committee secretary Ajit Singh Theti and his personal assistant Nikita Vaid were arrested by the Anti Corruption Bureau on Thursday while allegedly accepting Rs25,000 from the the parent of a student for granting admission.
Daljit Singh Bal, a former member of the college managing committee, said, "The arrests are a matter of deep shame. For the past several years we have been complaining to the SGPC about mismanagement of the college. The recent incident should serve as an eye-opener and must be utilised to clean up the college administration completely."
He said a delegation of prominent Sikhs would call on the SPGC team, which is expected to reach Mumbai from Amritsar on Sunday and apprise it of the functioning of the college.
In June 2013, Bal, in his capacity as the president of the Maharashtra Sikh Association, had written to SGPC leader and Punjab chief minister Parkash Singh Badal about the goings on in the college (dna has a copy of the letter).
"Every year at the time of admission, during the months of June and July, crores of rupees are collected as donation from prospective students by the principal and his syndicate. The money is never accounted for and there is total lack of transparency in dealings," stated the letter. Bal said had Badal acted on his letter the bribery incident would not have taken place.
According to Bal, the principal is a hand-picked man of chairman G S Bawa, and even after Prof Theti retired five years ago, he was retained as director for a year, before making him the principal again.
Bal said, "The amount of Rs25,000 is just the tip of the iceberg. There are about 7,000 students studying in various disciplines and at least Rs6 crore are collected every year, without any accountability."