Brash new entrants Kalyan, Alukkas may force Mumbai gold retailers to rethink strategy.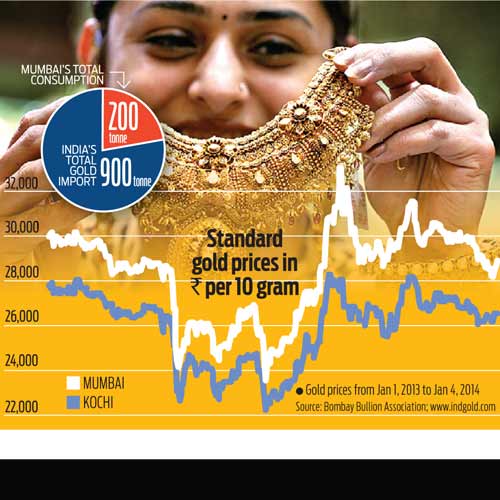 Two jewellery companies from 'gold's own country', Kerala, are beginning to shake up the retail jewellery market in the Mumbai-Navi Mumbai belt. Local jewellers are now beginning to offer pure gold and are also revising jewellery-making charges.
Kalyan Jewellers and Joy Alukkas have made an extremely high-profile entry into the retail gold market in the metropolis, with an unprecedented marketing blitzkrieg.
Kalyan Jewellers, headed by the low-profile TS Kalyanraman Iyer, who is in his mid-60s, entered the Mumbai market in March last year by opening three ultra-modern showrooms in Vashi, Thane and Borivli. Iyer roped in Amitabh Bachchan and Aishwarya Rai as brand ambassadors.
While company officials are tight-lipped about the ad spend, sources close to the company said upwards of Rs60 crore was spent for the launch alone. The Vashi showroom alone measures 14,000 sq ft.
Not to be left behind, Joy Alukkas, another major group from Kerala, opened a showroom in Vashi on Friday measuring 4,500 sq ft. The company had superstar Hrithik Roshan as its brand ambassador. This company also reportedly spent at least Rs25 crore for the launch.
The group had opened a store on Turner Road in Bandra (West) a couple of years ago.
Now, it has relaunched with a vengeance in the metropolis. The company has the world's largest jewellery showroom, measuring 60,000 sq ft in Chennai.
While Iyer was unavailable for comment, Alukkas told dna on Saturday that he entered the market to give buyers fair prices and genuine products.
The company clocked a turnover of Rs4,500 crore from its India operations alone last fiscal and an equal amount was made by its Dubai-based holding company in the same period. Alukkas said the gold market was expanding in the Mumbai metropolitan region and he planned to emerge as a major player.
According to Harmesh Arora, director of the Bombay Bullion Association, India imports about 900 tonnes of gold annually, of which 200 tonnes are consumed in Mumbai and neighbouring areas.
Apart from this, several hundred tonnes of gold are smuggled from Dubai and Southeast Asia.
Asked about the entry of Kalyan Jewellers and Joy Alukkas into the local market, Arora replied they are "definitely beginning to make a difference to the gold jewellery market.
Their approach is more corporate and they use modern marketing strategies. It is a welcome development, which will help the local market evolve."
A jeweller from south Mumbai, who wished to remain unnamed, said: "The Kerala firms are certainly posing a threat to traditional jewellers. Purity was always an issue with most of the jewellery sold across Mumbai. Copper and other metals are added to gold and sold to unsuspecting buyers. But, Kalyan and Alukkas are offering pure gold. Now consumers are beginning to migrate to these jewellers. It is time traditional jewellers got their act right."
Laxman Kothari, a leading retailer of Chembur and Navi Mumbai, said: "Smaller players who are following honest business practices have nothing to fear. Many retailers are increasingly selling hallmarked jewellery with a guarantee of purity. In fact, large players are selling jewellery at higher prices by charging at least Rs500 per gram towards what they call wastage charges, which is another word for making charges. We charge only Rs200 per gram towards making charge. These retail chains from Kerala have huge overhead expenses and they make money on large trade volumes."
"Traditional retailers have loyal customers. We know our customers personally and have formed a strong relationship of trust. It is not possible for anyone to break it. Gold jewellery is a special product which cannot be sold by parading film stars. It is not the same as selling soaps and shampoos," Kothari said.
But sources in Kalyan and Joy Alukkas stores say that they are here to stay.
With the gold retail market in Mumbai up for a churn, it could be a case of Mumbai becoming 'gold's own city'.