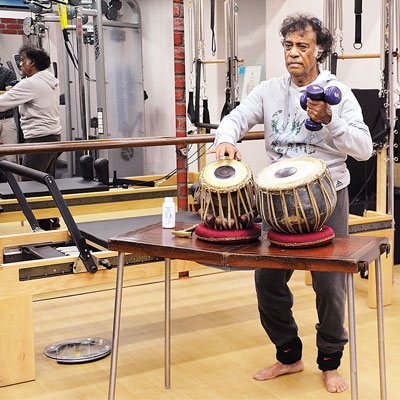 "I don't want to do this for myself but for our tradition. For far too long, on the world stage, it has not been given its due to despite its rich legacy. I hope these tests establish the superior mind-body connect in kathak and attract more and more youngsters to it making it a movement," says the internationally-renowned kathak maestro Pt Chitresh Das, who's almost 70.
He spoke to dna on Monday while being tested to find out how he can achieve such "unfathomable levels of endurance and mathematical precision with his body and how it can be replicated with training intervention to create a way for future generations." The test was done at Parel's The Heal Institute of Parel, a sports medicine and high-performance centre run by sports bio-mechanic Shayamal Vallabhjee.
Even before the tests, his basic body parameters like pressure and heart-beat were measured. His lactic acid count of 1.8 is what got Vallabhjee excited. "This kind of body is built for punishment," he remarked. "I don't know of too many athletes in good form who will give this reading." After all, an exercise scientist for the Indian Davis cup team, Vallabhjee should know what he's saying.
Pt Das was first put through a physical endurance test, which was followed by a vigorous dance routine for the same duration to compare how his body performed with both routines.
While he went through the entire physical drill according to instructions from the physiotherapists without even panting, he came into his own when he switched to the dance routine. With weights on his ankles and dumb bells in hand he played the tabla accompanied by pirouettes; and with brisk footwork he sang a shivaradhana all along. "When I dance, it's a completely mind over body experience," said the maestro who had barely eaten a toast with chai since morning.
The final findings will of course take a while to come. "We'll need two days to compile the findings and arrive at a final report," said Vallabhjee. We can hardly wait.