Protest spreads after 'dictator' Welukar suspends economics professor.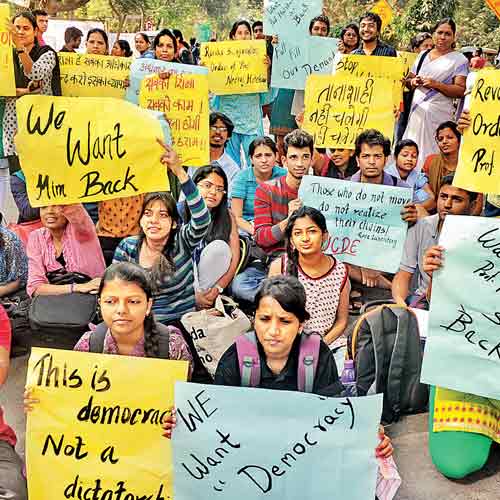 A day after the suspension of Prof Neeraj Hatekar, his colleagues, students and senators of University of Mumbai came out in support of the teacher, condemning vice-chancellor Rajan M Welukar's move.
Over 40 students held a protest at the university's Kalina campus demanding reinstatement of their professor. "He is one of the most active and loved professors. The university hasn't given him a chance to justify his actions," said Neelam Shah, student of MA part 1.
Students are also concerned about the academic loss. "We are going to miss several lectures.
The university has failed to consider this before taking such a decision," said Shah. The students have also launched a signature campaign.
The head of the department of economics, Ritu Dewan, called an emergency faculty meeting on Monday. A resolution against the suspension order has been passed by the teachers and submitted to the vice-chancellor. "We are in support of our colleague, who is a dedicated teacher and researcher."
Similar support poured in from other departments too. HOD of statistics Prof Ulhas Dixit, has also condemned Welukar's decision. Smita Gandhi, who heads the geography department, said, "I am not aware what Hatekar has revealed to the media. But his suspension without conducting an inquiry and not giving him a chance to defend himself is wrong."
Senate members too raised their concern. "With this decision, the vice-chancellor has proved that he is a true dictator and would target anyone who exposes his mismanagement and wrongdoings. Welukar has sent out a strong message across varsity that whoever opens his/her mouth will face a similar fate," said Sanjay Vairal, senator. He also alleged that with the support of his political leadership, Welukar has a one-point agenda-to damage the varsity at the behest of private universities.
Mumbai University College Teachers' Association has written a letter to the vice-chancellor. "We had bought to your notice the irregularities committed for a particular award by BCUD director Rajpal Hande but you did not take any action against him. In that case, you violated the Maharashtra Universities Act. Then why use it this time," read the letter.
Pro-VC fields media queries
Justifying the university's action, pro-vice-chancellor Naresh Chandra maintained that all steps taken by the varsity are as per the Maharashtra Universities Act of 1994. "The conception that prof Hatekar has been suspended because he raised doubts about the vice chancellor is wrong. He had misinformed the media about various issues in the University. Instead of going to the media, he should have approached the authorities to address the problems. The management council, held on December 20, unanimously demanded that strict action be taken. After a lot of discussion, this decision was taken," said Chandra. The suspension isn't likely to be revoked in spite of the protests.