From the beautiful art installations to talented chefs whipping up dishes, there's something for everyone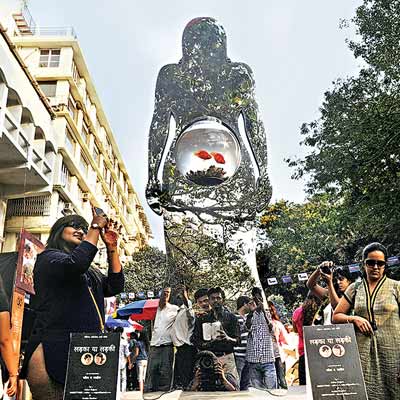 A melange of activities, art installations, discussions on Bombay, stalls selling ethnic ware and workshops cooking up desserts drew crowds to Kala Ghoda Arts Festival (KGAF) on day three of the event.
Around 80 people gathered to participate in an interactive session-cum-workshop where Ayushi Shah, chef and owner of the confectionery outlet Icing on Top, prepared mint and strawberry shots in a glass, chocolate chip cookies and cake pops. Food enthusiasts took notes and set the mood by shooting questions at Shah, who is the youngest chef in the line-up at KGAF this year.
The festival street itself was abuzz with action as people visited the various art installations, created on the theme of momentum. Families posed with a gigantic installation of an amoeba in movement and perched themselves on a makeshift auto that constituted of the front half of an autorickshaw, but had benches placed as seats.
"Installations of this kind are useful for children as they encourage creative thinking. Also, the photography session is appealing with a mix of Hollywood and Bollywood and is a good opportunity to take a family picture," said Chembur-based teacher Bhanumati Sharma, who has been attending KGAF for the last seven years.
A mountain of plastic bottles with liquids of three different shades — orange for land, green indicating fauna and blue alluding to waves — is seated in the middle of the street. Natasha D'Costa, the artist who has engineered the work with the help of children from 18 schools, said, "The different colours symbolise the fact that if we do not dispose of plastic efficiently, our land, our water and fauna will be destroyed and plastic will seep into each of these. We are trying to up-cycle plastic and have invented different ways of reusing it."
The mela and festivities are set to continue till February 9. And although street performances have been cancelled, crowds of students, families and elderly can be seen thronging the streets and gorging on the food available at the various stalls.