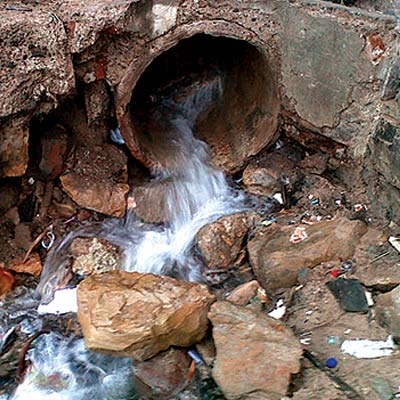 Until recently a favourtie spot for morning walkers and joggers, the Juhu beach is turning out to be a mood spoiler. Every morning, the sandy stretch is found to be filled with sewage while a foul smell hangs in the air.
Regulars to the beach point to an open channel between a roadside storm water drain and the sea behind the problem. They say carelessness and apathy on the part of the local civic staff are only compounding the situation. The area comes under the jurisdiction of K-west ward in Andheri.
"We have a beautiful beach and it is a lovely experience to be here for the morning exercise. However, of late, we have been noticing that the beach is full of filth in the morning," rused a resident from JVPD scheme.
Another morning walker, a resident of Gaothan, said the outlet of the storm water drain is right on the beach. "The released water is full of sewage as some societies may have connected their sewerage lines to this drain," he said.
According to Larson Fernandes from Juhu Angles, an NGO working in the area, they have been following on the issue with the ward office, which apparently has come with a solution. "However, when will they resolve the problem is a matter of long wait. Politicians, celebrities, locals and and tourists come to the beach every day but the filth mar their pleasure," said Fernandes.
Vishwas Shankarwar, Assistant Commissioner from K-west ward said that the issue was being looked into and should get resolved in few months. "We have elevated the complaint to the central agency and the matter is being discussed at the headquarters level."
The officer said, "The outlet is just an extension of the storm water drain from the main road. The topography of the area is such that the drain cannot hold much water during monsoon. To avoid the area from flooding, the storm water drain water is allowed directly into the sea."